There's no better way to escape the cold winter months and see the spectacular islands of the Caribbean than from the deck of a charter boat. These top 10 charter boat destinations should be on your must-see list. You're in luck if you're looking for the best charter boats in the Caribbean to help you explore because smart charter companies like The Moorings, Sunsail, Dream Yacht, Horizon and others have positioned their bases near some of the best places in the Caribbean, convenient to reaching the most picturesque parts of the region. Here you can explore these top destinations and enjoy the best things to do in the Caribbean, just by setting sail. Below we've compiled some highlights, roughly arranged in order from the Leewards to the Windwards, in a sweeping arc through the world's most popular cruising grounds.
Culebra

Above: Culebra is a small and relatively unpopulated island with a surrounding group of cays, located about 20 miles off the coast of Fajardo East of Puerto Rico. Photo via Zuzana Prochazka for YachtWorld.
Approximately midway between St. Thomas and Puerto Rico, Culebra is a remote and quiet island that is a perfect place to unplug. There are no major resorts and basically no tourist traps. Anchorages are never crowded and the mooring balls are free. Walk the streets of Culebra Town where there are few restaurants but plentiful shacks serving Puerto Rican street food and cerveza. "La Isla Bonita" is what locals call Culebra, one of the two main Spanish Virgin Islands. Bahia Tortuga on nearby Culebrita may be the most beautiful beach in the Caribbean. Here you can hike to the ruins of an old lighthouse or snorkel with turtles near the appropriately-named Tortuga Beach.
St. John – U.S. Virgin Islands
Above: Saint John Island in the Caribbean. Photo via Zuzana Prochazka for YachtWorld.
St. John is a part of the U.S. Virgin Islands, which means your cell phone will work without additional plans and you don't need to check into the country when chartering from St. Thomas. Most of St. John is a national park with excellent anchorages and an abundance of inexpensive ($20) moorings. Maho Bay on the northern side is fringed by a white sand beach that extends 60' out into turquoise water, where it joins a reef. Curious turtles surface all around and dozens of stingrays glide just below the surface. Rent a car for a four-hour a whirlwind tour of the island including a stop at Skinny Legs, a hole-in-the wall cruiser bar that can't be missed if you're stocking up on T-shirts. Visit the Annaberg Sugar Mill ruins to catch perhaps the best view in the islands as well as some local history. Saint John is actually the smallest of the 3 U.S. Virgin Islands, which are located in the Caribbean Sea.
Virgin Gorda
Above: Virgin Gorda is the third largest island in the British Virgin Islands is known for the Baths – a maze of beachside boulders that forms a chain of pools and grottos set amidst white sand beaches, an ideal place for sunbathing and swimming. Photo by Zuzana Prochazka for YachtWorld.
Virgin Gorda in the BVI is a magnet for charter boats and although there are many pristine anchorages, a stand-out hotspot is The Baths. Arrive at the Baths early to avoid the crowds. There are a limited number of moorings, otherwise you'll have to anchor farther out which makes the swim in that much longer. A sign marks the start of the walk through the rock formations that make up this one-of-kind maze. Bring your camera but take care to keep it dry as you climb ladders and wade through pools under the rocks. For a nice lunch, walk up to the Top of the Baths Bar where you'll be treated to a phenomenal view of the BVI.[/caption]
Anegada
Above: The northernmost British Virgin Island, this coral island is home to a variety of rare plant specieis and wildlife like rock iguanas and flamingos. The island has many secluded beaches and shipwrecks to explore by boat. Photo via Zuzana Prochazka for YachtWorld.
Once completely off-limits to charter boats, this 11-mile island on the horizon is like a siren's song. When sailing for this alluring land, you'll need to dodge Anegada's surrounding eighteen mile-long Horseshoe Reef, a notorious boat eater with over 300 known wrecks. Today, buoys clearly mark the entrance and navigation is easy. The northern side offers miles of sugary white sand beaches where a protective reef takes the brunt of the Atlantic waves, creating calm lagoons along the shore. These giant swimming pools are full of angelfish, snapper and parrotfish crunching on boulders of elkhorn and brain coral.
Anguilla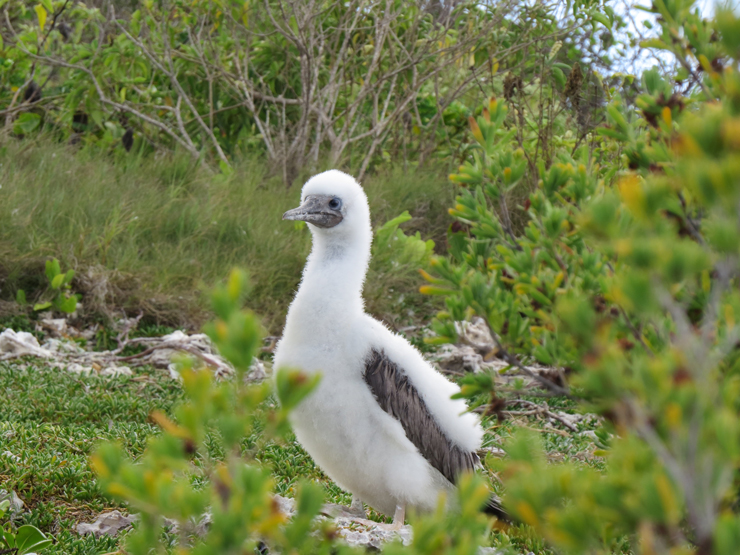 Above: Anguilla is comprised of one main island and several offshore islets and is home to a range of long sandy beaches and secluded coves only accessible by boat. Photo via Zuzana Prochazka for YachtWorld.
A British Overseas Territory, Anguilla has a distinctly different vibe from nearby St. Martin. The tchotchke boutiques are few and the cruisers are the real deal, with boats that look like they've gone the distance. Anguilla is all about the natural beauty of the idyllic tropical beach. It's the stuff of escapist postcards and Sandy Island and Prickly Pear Cays top the list of must-sees. With sturdy reef shoes you can explore the moonscape of dead coral that makes up the western end of Prickly Pear East and the dozens of ground nesting birds. Mother boobies stand sentry over their fluffy white offspring and they see so few people, they're mostly unafraid.
St. Barts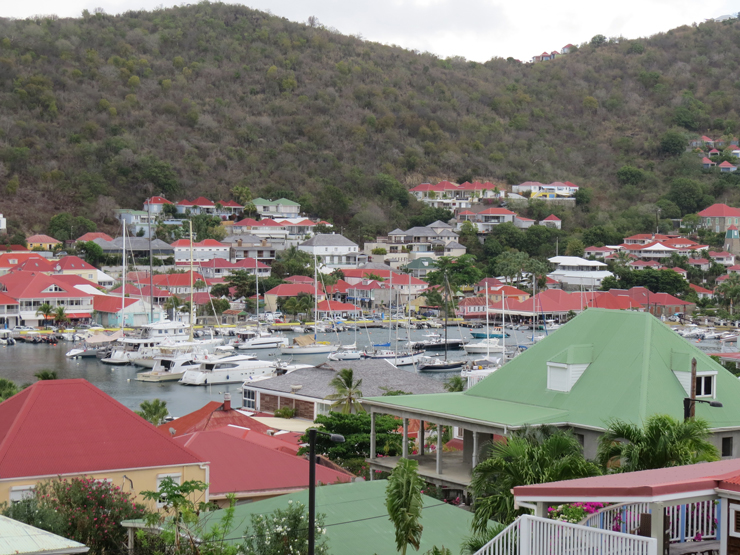 Above: St. Barts, short for Saint Barthélemy, is a French-speaking island in the Caribbean that is well-known yachting destination with busy harbors, high end restaurants and designer shops, and of course long, white sand beaches. Photo via Zuzana Prochazka for YachtWorld.
If the glitz of international yachting is what you're after, set course for St. Barts. This is a mecca for competitive sailors with high profile races like the St. Barts Bucket and Les Voiles de St. Barths, where superyachts gather to race and/or spectate. Gustavia, the main port, has a snug harbor, surrounded by historic houses with red tiled roofs and small streets packed with the glitterati. Chic restaurants with the best of French haute cuisine offer spectacular views while boutiques with designer wear, fine jewelry and watches lure shoppers with discriminating tastes.[/caption]
Guadeloupe
Above: Guadeloupe consists of six inhabited islands in the Caribbean Sea along with many uninhabited islands, outcroppings and islets. Photo via Zuzana Prochazka for YachtWorld.
Guadeloupe is not one island but rather an island group and also a French territory. Resembling a butterfly, Gudeloupe has two large islands: Basse-Terre and Grande-Terre. The hilly Grande-Terre has long beaches and sugarcane fields while Basse-Terre is home to the 5,000-foot La Grand Soufriere volcano, the Parc National de la Guadeloupe and the three-tiered 350-foot Carbet Falls. Divers won't want to miss the Jacques Cousteau Underwater Reserve on the western side of Basse-Terre. On the quieter, nearby islands of Les Saintes, Marie Galante, many of the inhabitants still wear traditional Creole dress and the mix of African, European and East Indian cultures makes for great photos and even better dining. Consistent trade winds between 10 and 20 knots provide great sailing conditions.[/caption]
Bequia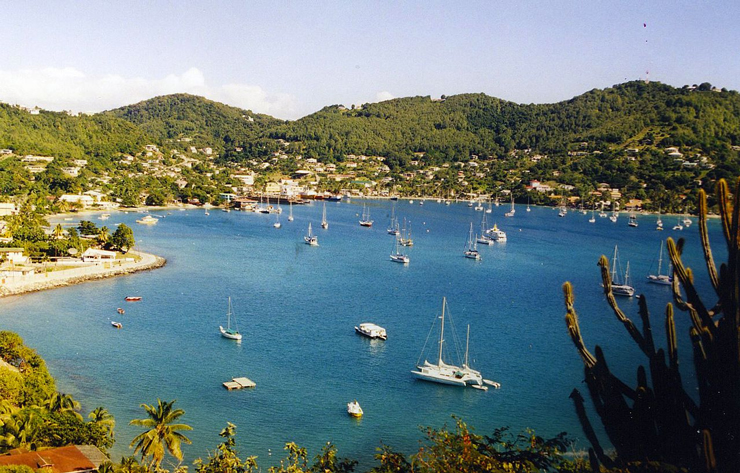 Above: Bequia, the second largest island in the Grenadines. Photo via Zuzana Prochazka for YachtWorld.
Bequia is the second largest of the Grenadines, a chain of postcard-perfect islands that lie in a curved line between St. Vincent and Grenada. Bequia's English-speaking population is perhaps the friendliest in the West Indies and their "boat boy" culture means you'll have a helping hand when you arrive whether it's assistance hooking up to a mooring or delivery of fresh bread and ice. The shopping in Port Elizabeth is colorful with bright T-shirts flapping in the breeze outside tiny gift shops painted pink, green or yellow. A 30-minute stroll down the town waterfront is like window-shopping for the perfect place for lunch and drinks. A taxi ride to the windward side will bring you to Orton "Brother" King's turtle sanctuary.
Carriacou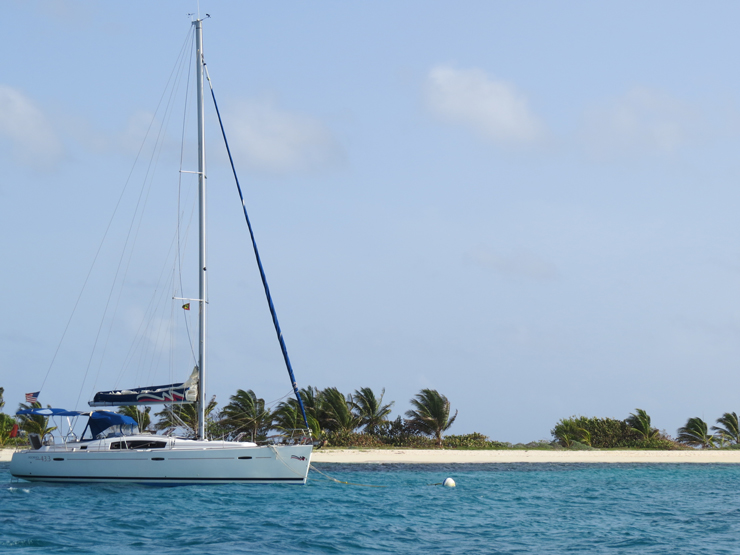 Above: Carriacou in the Grenadines. Photo via Zuzana Prochazka for YachtWorld.
Carriacou is another gem in the Grenadines, which should be a stop along the journey from Grenada to the Tobago Cays. You can find a mooring sheltered on the inside of Sandy Island. Head to the beach of this camera-friendly deserted island for a day of picnicking, snorkeling and wondering what life as a castaway would be like.
Tobago
Above: Tobago is a group of small deserted islands in the Caribbean. Photo via Zuzana Prochazka for YachtWorld.
When you think of aquamarine water, white sand beaches and the occasional palm tree leaning out over the ocean, you might be thinking of the Tobago Cays. Horseshoe Reef protects this group of four small deserted islands that were designated a marine national park in 1998. There are few distractions and happily no nightlife so the Cays are about bringing a couple of books and a cooler of beer, and dropping out of civilization for a while.
You can cruise much of the best parts of the Caribbean one charter at a time and discover your own must-see islands—just make sure to add these your list. If you want to explore some other top charter spots, be sure to read 5 Top Yacht Charter Destinations in North America.
Editor's Note: This article was originally published in July 2017, and was last updated in November 2021.
Related
---