Being of two characters, Croatia is a surprise to all who visit and the best way to see its long, languid coast that stretches between Split and Dubrovnik along the blue Adriatic, is by boat. The country seems perpetually caught between two identities: the whitewashed laidback vibe of the Mediterranean and the brash demeanor of Balkan Eastern Europe. It's a quirky place where the blue waters may entice you initially, but the history, culture and people will make you want to stay – indefinitely.
New sailors often ask me where to charter to maximize sailing time. I usually laugh and tell them to pick a place they want to see and not worry about the sailing because destinations between islands are often short and the wind is usually uncooperative. However, after checking out the charts of the Croatian coast, it becomes clear that there is plenty of room to sail and the wind if often spectacular. That said, there are dozens of towns (many of them UNESCO sites) and hundreds of coves to check out too, so the question becomes how to spend a week (hard core sailing or historic sightseeing)and feel that you've at least nicked the surface.
Sightseeing On Land
We landed in Split and took a couple of days to orient ourselves by visiting Diocletian's Palace, which is less a palace and more like half the old town itself. A UNESCO Heritage Site, the palace was built by a fourth century Roman Emperor but was repurposed by every generation since and now is a mix of every kind of architecture from the past few centuries. Standing in the central square or peristyle, you can see evidence of the many civilizations that passed through here from the Middle Ages on. Neoclassical architecture mixes with the walls of the temple of Jupiter on one side and the Cathedral of St. Domnius on the other. In the middle are Egyptian granite columns and even a sphinx. Point your camera anywhere and you're bound to capture multiple centuries of history in a single shot.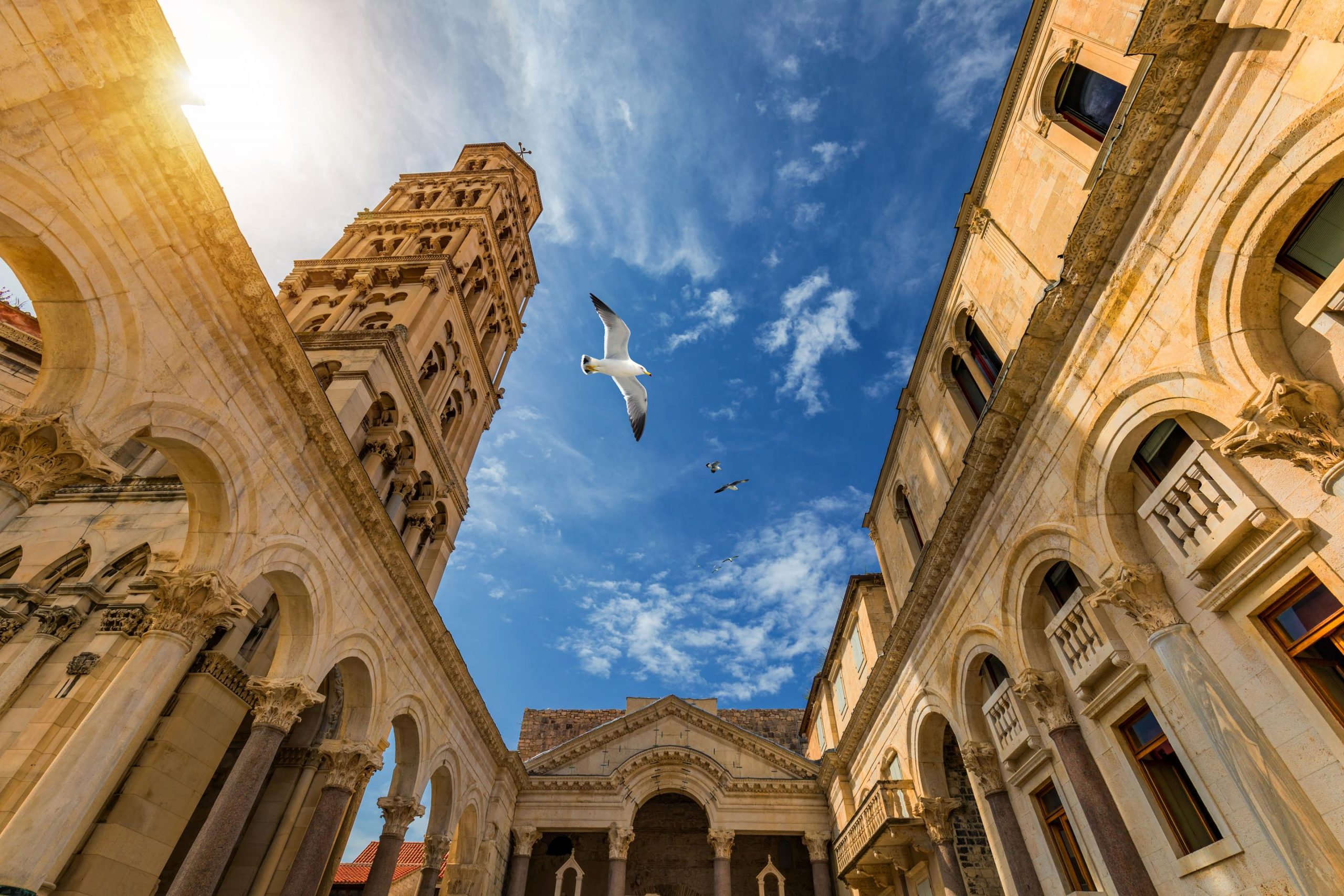 Above: Diocletian's Palace's Peristyle In Front Of Cathedral Of Saint Domnius' Bell in Split, Croatia. Photo by DaLiu80 on Pond5.
The ancient city of Trogir, less than 20 miles away, serves as the departure point for most Dalmatian Coast charters. It's also a UNSECO Heritage Site. Photos from the town's fortress, also known as Kamerlengo Castle, are standard fare and the views from its upper wall are a must.
Strolling along Trogir's waterfront, we saw the ever-present gulets that are stacked three and four deep on the quays. These giant tourist boats often carry three decks and two masts but they're mostly floating powerboat pleasure palaces where professional crews provide everything from local knowledge to excellent cuisine. Wanting to pilot our own vessel, we checked out charter companies like Navigare, Dream Yacht Charter, The Moorings and others. I picked different companies each time I sailed in Croatia and they were all excellent.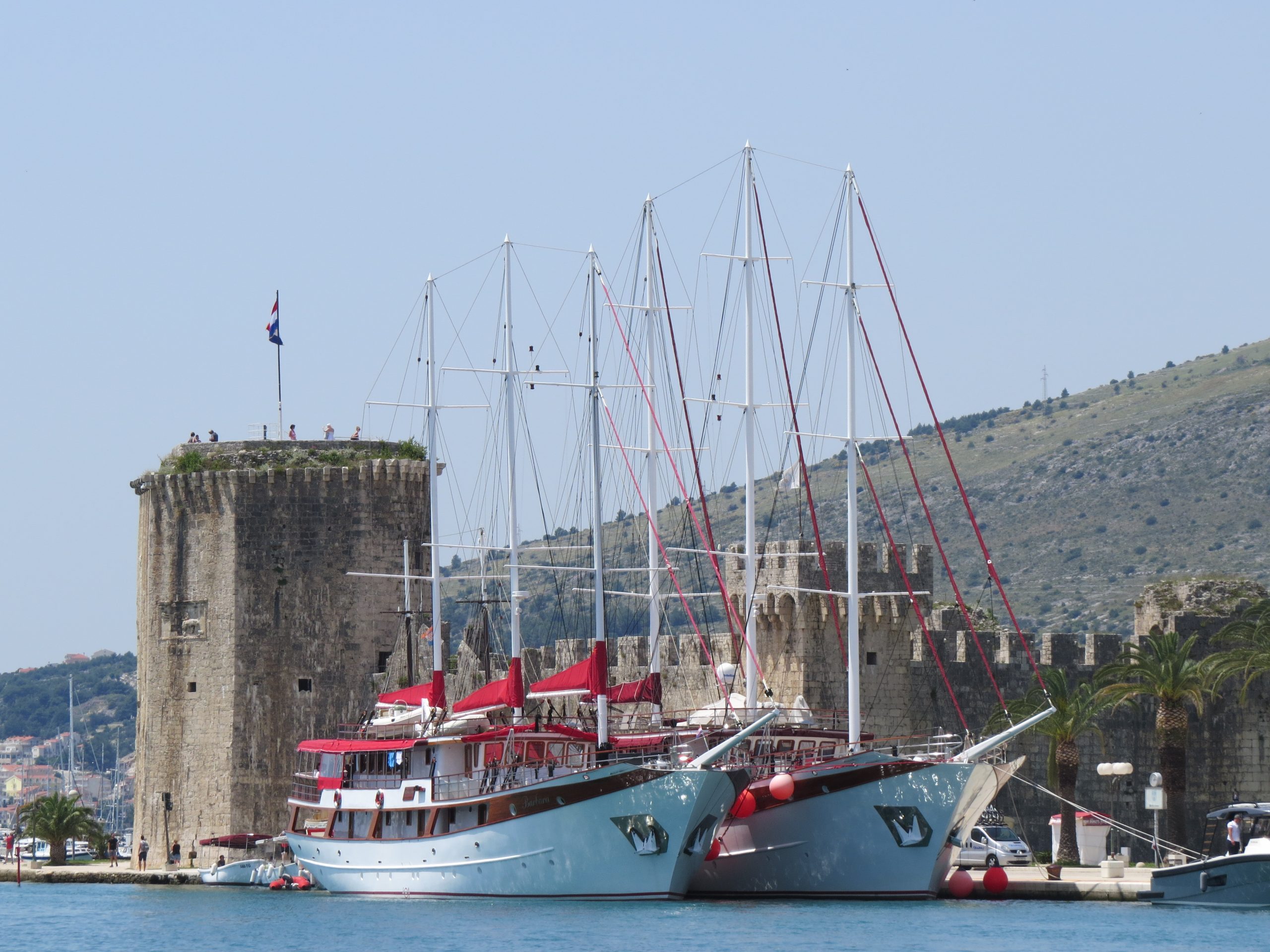 Above: Two giant tourist gulets (pronounced goo-lets) boats at port in Trogir Croatia. These hand-crafted wooden boats are generally designed and built in Turkey and are used exclusively for leisure cruises and recreational enjoyment. Photo by Zuzana Prochazka for YachtWorld.
Heading Out: Charting Our Course
Once aboard the boat, we left the busy marina and sailed south to spectacular Korčula Island. We had a favorable wind and spent most of the day on one tack, settling into our trip. This island is the second most populous island in the Adriatic Sea, behind Krk. Korčula has a rich art and musical history and is well known as a center for Baroque music as well as being the home of a traditional Croatian sword dance known as Moreška. The island, as with many here, is only accessible by boat, although there is a regularly scheduled ferry.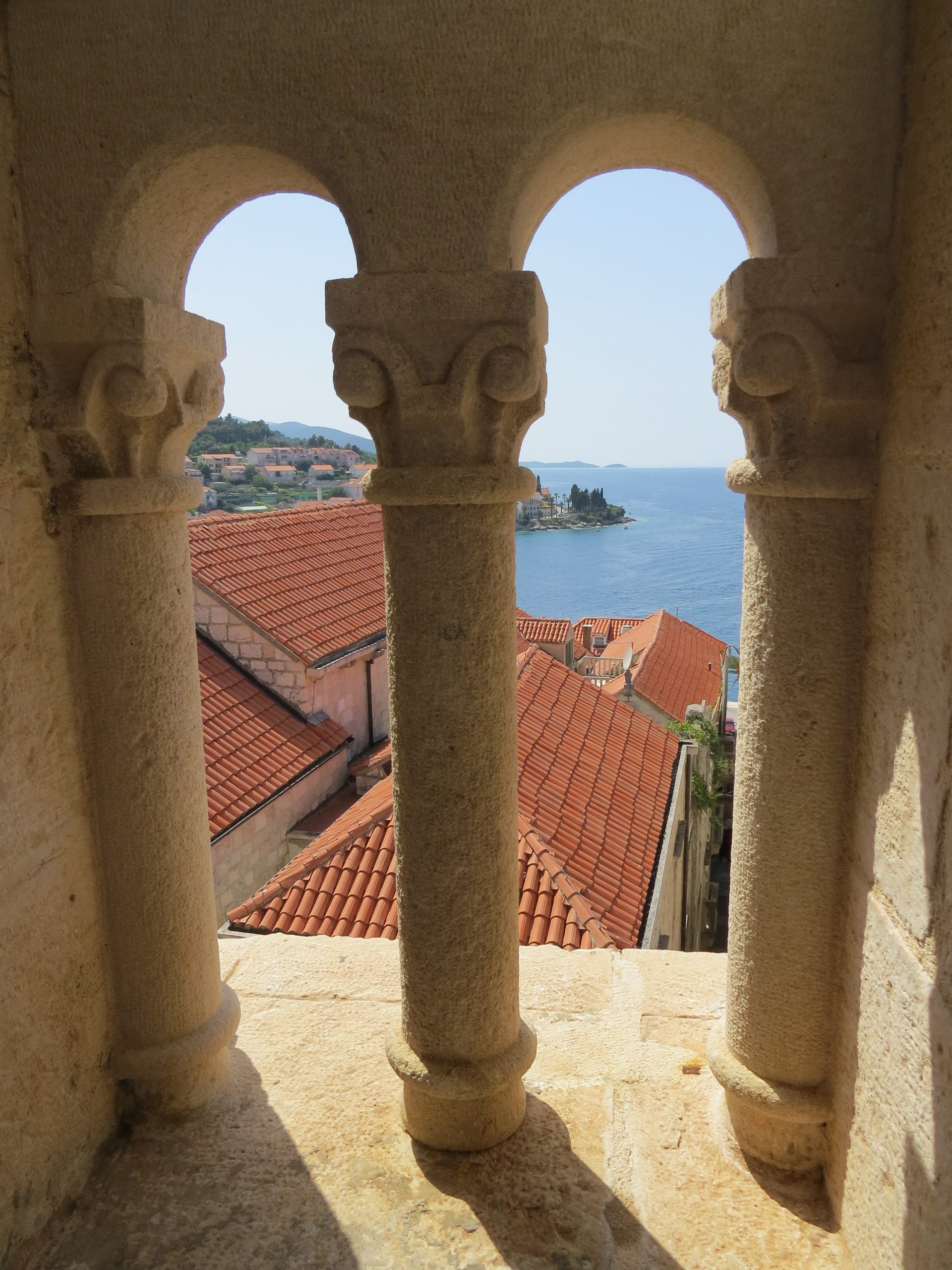 Above: A view out to the Adriatic Sea and the Dalmatian Coast beyond from a building in Korčula, Croatia. Photo by Zuzana Prochazka for YachtWorld.
Korcula is just a few hours' sail from the world-renowned walled town of Dubrovnik (another UNESCO site – are you seeing a trend here?) that's worth a multi-day stay. Much of the Game of Thrones was filmed in and around Dubrovnik, but even if you're not a fan of the show, the city's walls, cliff-side cafes, museums, restaurants and views are spectacular.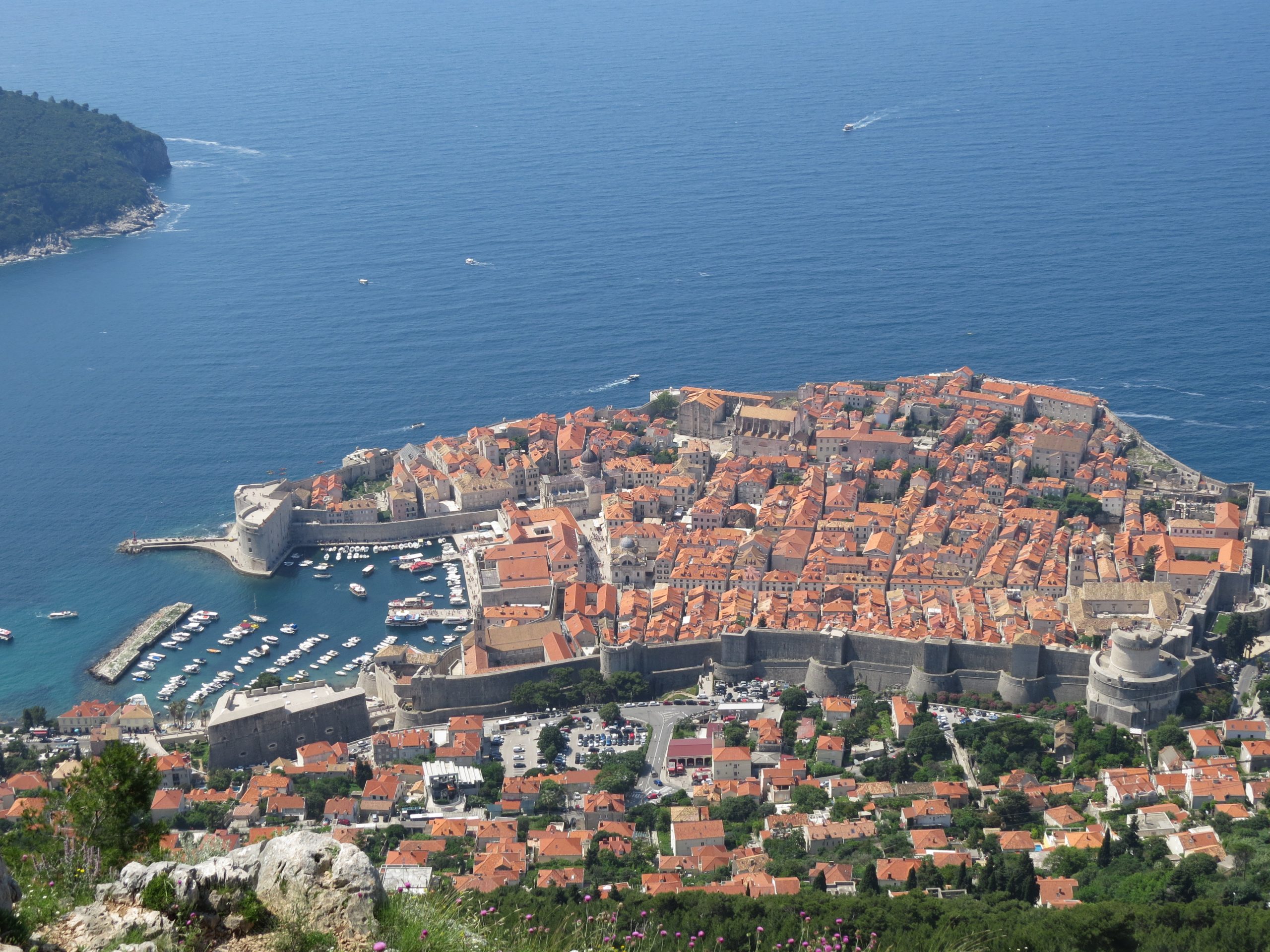 Above: The seaside City of Dubrovnik along the Croatian coast in the Adriatic Sea in Southern Croatia. Photo by Zuzana Prochazka for YachtWorld.
Heading south on our first leg took us out of the immediate charter traffic so we enjoyed a bit of peace. We picked up various islands as we ran back north just when everyone was heading south.
Vis Island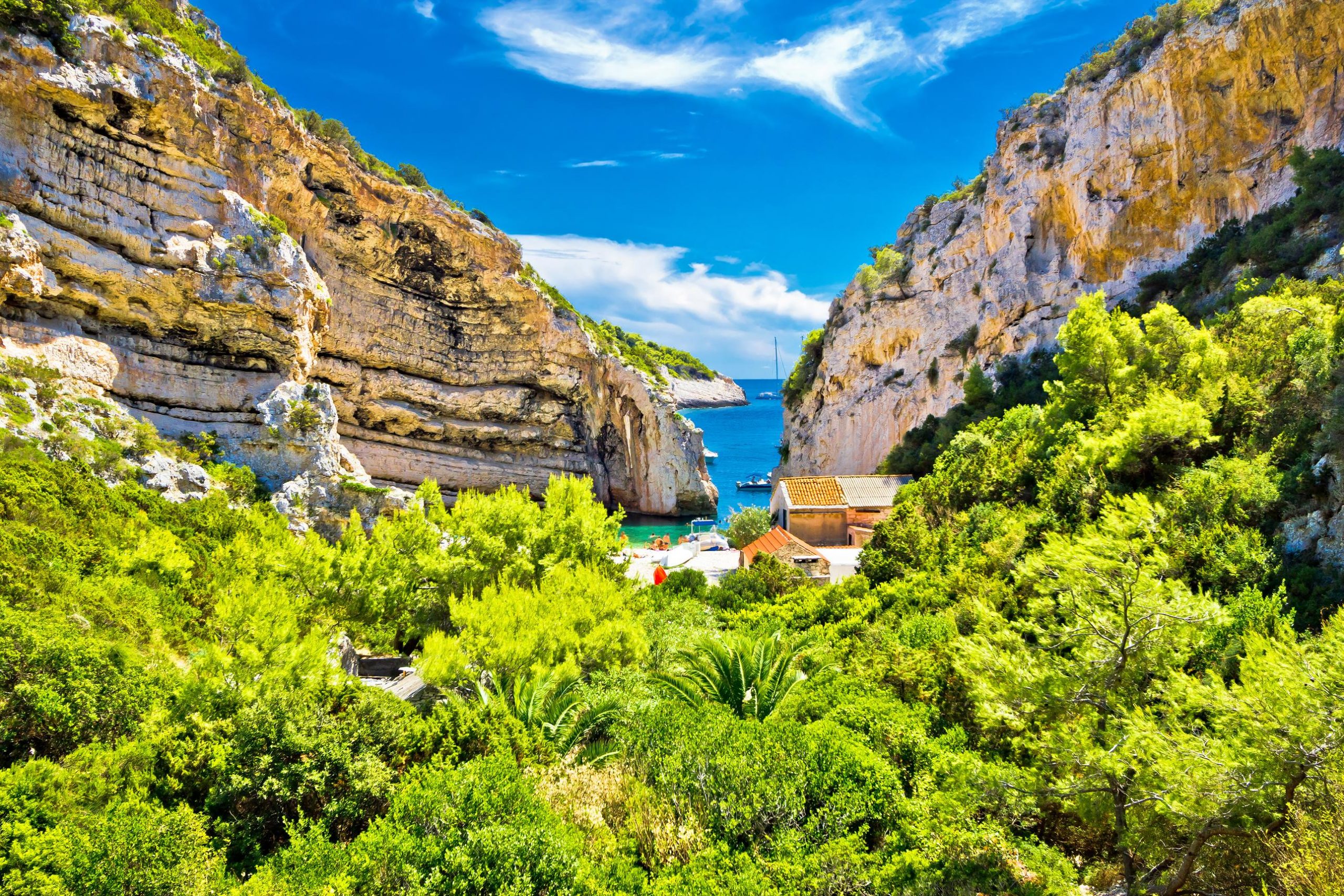 Above: A scenic beach on Vis Island in Croatia. Photo by xbrchx on Pond5.
Among the highlights was Vis Island where we bunched into a tight Med moor, with fenders squeaking against neighboring boats, and toasted our arrival by arranging a land tour complete with a visit to Tito's submarine tunnel and the charming fishing village of Komiza on the other side of the island. Our excursion was worth every "kuna" as our guide was a bit of a World War II buff who exulted in showing us every partisan cave and hiding spot.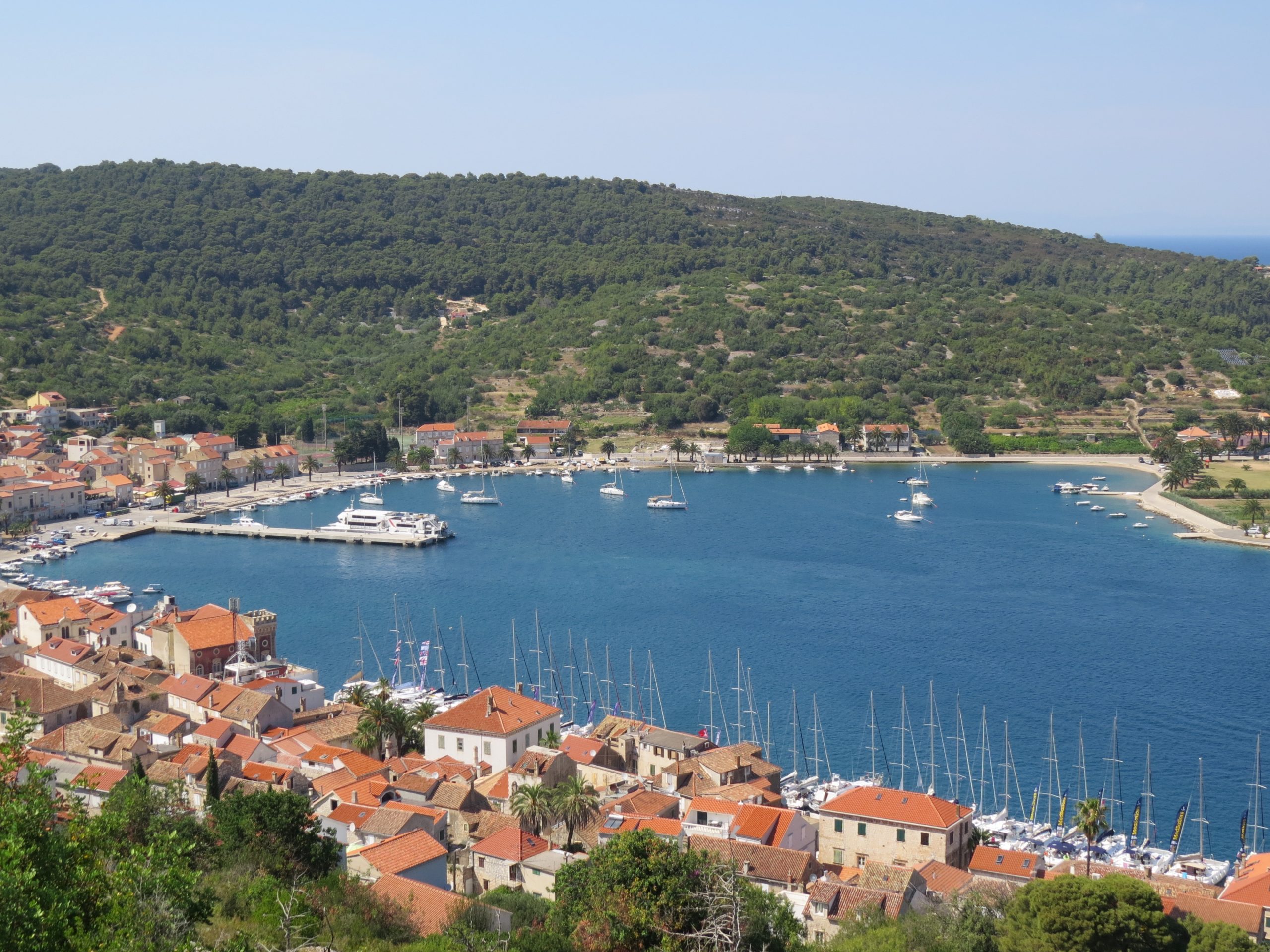 Above: A Harbor on the Island of Vis in Croatia, an ideal place to live by the water and experience "fjaka" – aka a relaxed way of life. Photo by Zuzana Prochazka.
The Blue Cave (Modra Spilia) In Bisovo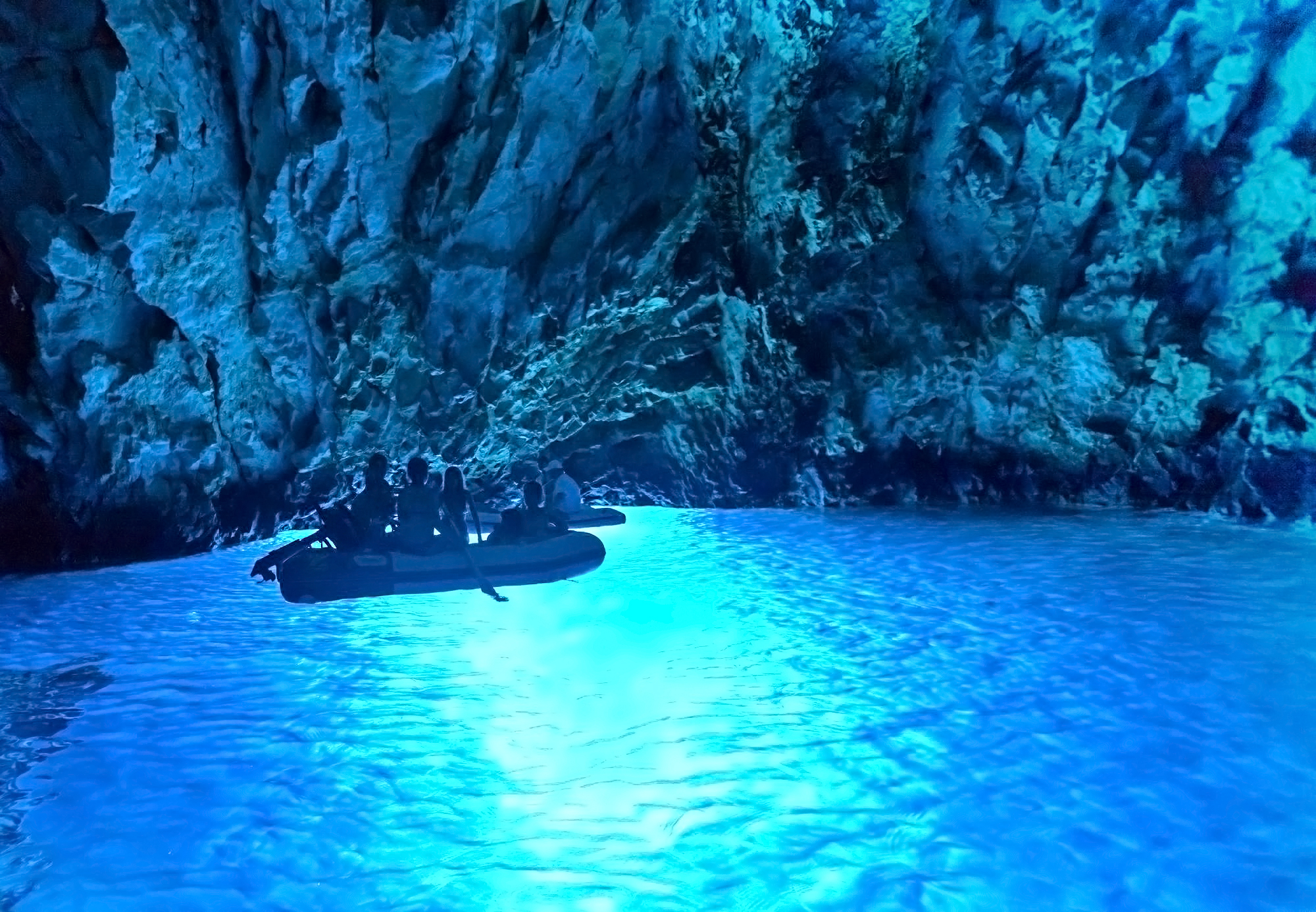 Above: The Blue Grotto, or Blue Cave (aka Modra špilja) located in a small bay called Balun on the east side of the island of Biševo, Croati, about 4.5 nautical miles from Komiža in the Croatian Adriatic. Photo by Paul Prescott via Pond5.
Almost next door to Vis is the island of Bisovo, which is the home of Modra Spilja (Blue Cave). Arriving in the bay, we caught a mooring and waited our turn to board a skiff, which is the only way to enter the Blue Cave – no private dinghies allowed. Inside, propulsion is only via a long pole, Italian gondola style because there's no real ventilation so there can be no outboard exhaust. With the sun outside high in the sky, everything inside glows a brilliant blue, the result of ambient light bouncing off the white sand below.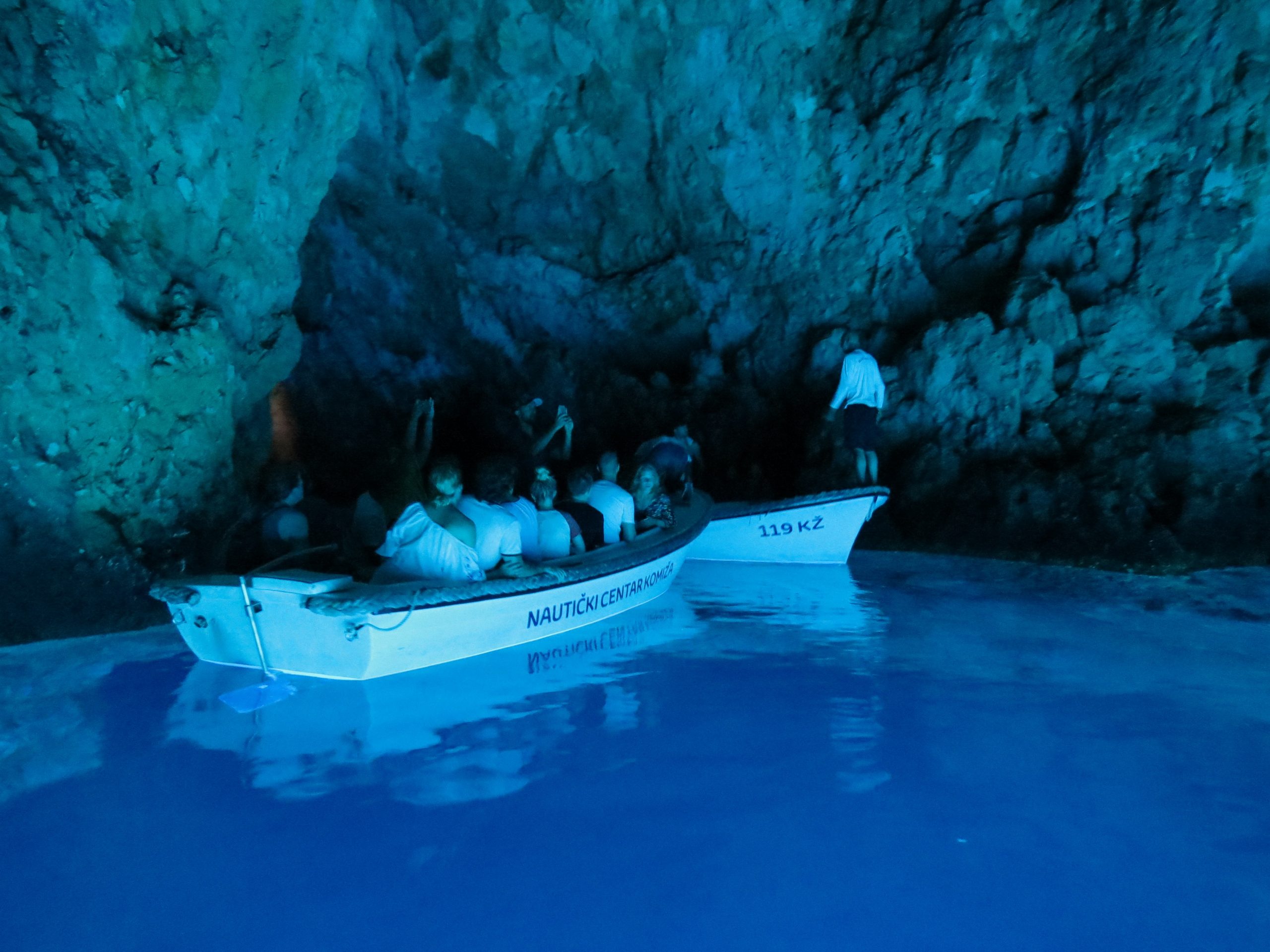 Above: Tour boats navigate through the Blue Grotto – caves with underground rivers in Croatia. Photo by Zuzana Prochazka.
Hvar Island
Next up was anchoring off Hvar Town on the island of Hvar. This is a bustling international community of cafes and a chic clientele chauffeured on six-figure tenders to and from their nine-figure superyachts. A destination of the glitterati, Hvar harbor is where Onassis-type yachts rub elbows with humble local fishing craft and every kind of sail and powerboat in between. The hike to the top of the fort is well worth the sweat for the amazing views and cool ice cream.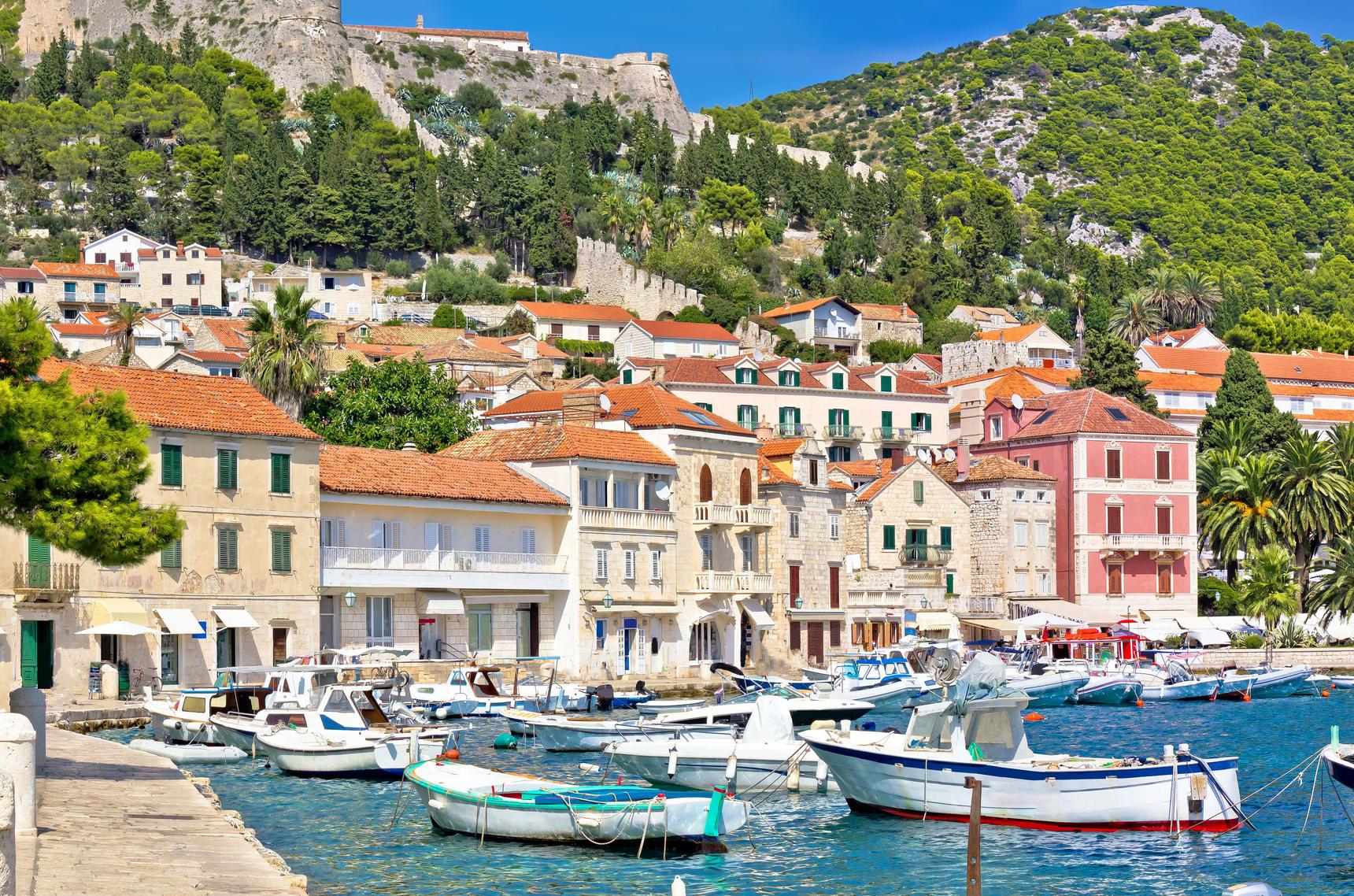 Above: Boats in a marina on the Island of Hvar in Croatia. Photo by xbrchx on Pond5.
We took a taxi to Stary Grad (Old City) on the northern shore of the island, which is much less glitzy than Hvar and exudes an old-world charm with modern amenities. No longer a part of the dour Eastern Bloc, Croatians make excellent entrepreneurs, capitalizing on every corner of Stary Grad. Each nook and cranny hides a quaint café or gourmet shop that would make Napa Valley foodies envious.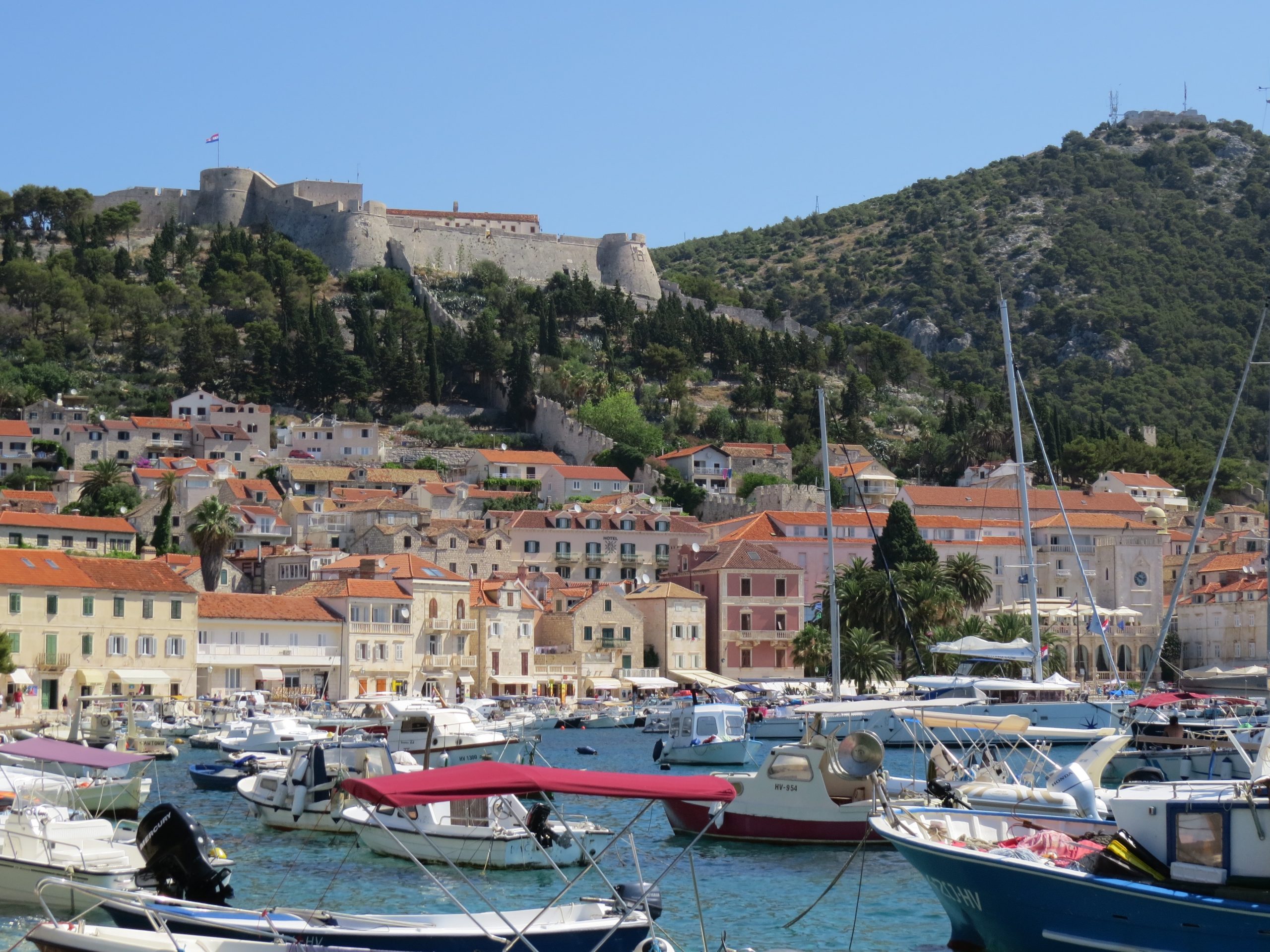 Above: Another angle of Hvar Harbor in Croatia, showing the castle on the hill in the backgrounds overlooking the village and surrounding harbor. Photo by Zuzana Prochazka.
The holding ground around Hvar harbor is sketchy so for the night, we crossed the channel and found an idyllic cove on the northern side of Sveti Klement (St. Clement Island). With prior reservations, you can eat at The Fisherman's House on shore, which is like having an excellent dinner in the back yard of a local friend's house since it's a family-run establishment with only a half dozen tables. Their cove has mooring balls and is well protected from everything but northerly winds.
Brac Island and Solta Island
By mid-week, we thought we had been spectacularly smart with our itinerary. Each town was more beautiful than the last and we congratulated ourselves on our outstanding choices. However, as we pulled into towns like Milna on Brac Island and Maslinica on Solta Island, we realized that it wasn't our superior planning abilities that made each town mesmerizing, but that each town simply was mesmerizing.
Croatian YachtWeek – A Big Boating Event
Croatia is the Wild West on the water. Right-of-way rules are mainly driven by testosterone and horsepower. Keep a good lookout because these guys would rather collide than lose face, especially if there's a woman at the wheel. Don't be surprised to have boats race you to the quay, bumping you out of the way even as you're already backing to a Med moor.
Also, there's "The Yacht Week". This mindboggling marketing phenomenon is not a week, but instead a jamboree that lasts all summer long. Manbunned hipsters in tiny swimsuits group together on chartered vessels and are often inebriated by midday. This international sailing odyssey of 20- and 30-somethings is a relentless onslaught on both visitors and locals as they party their way from town to town. Whenever we spotted the long "The Yacht Week" banners flying from backstays or the stickers emblazoned on their hulls, we picked up and went elsewhere.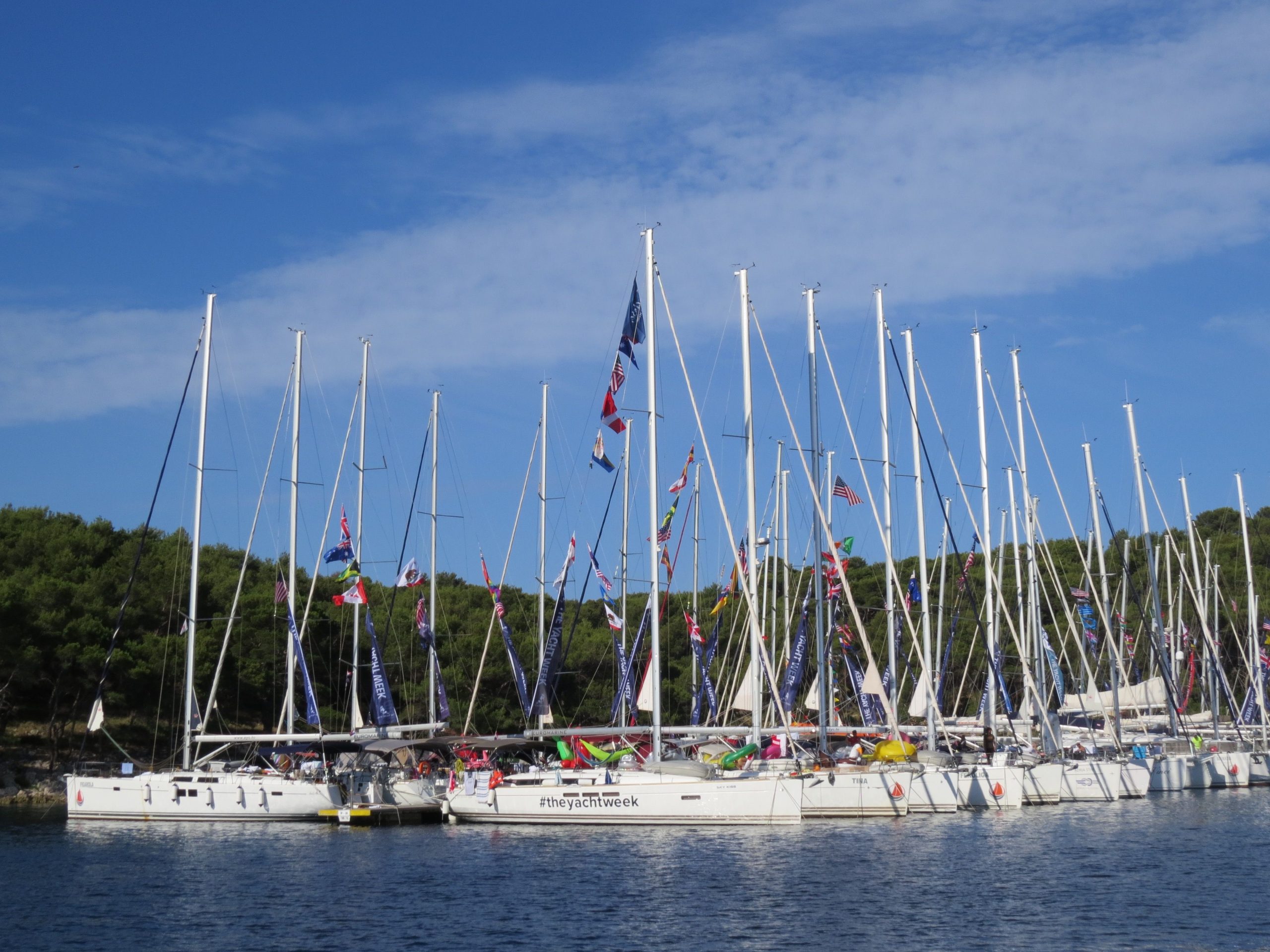 Above: YachtWeek in Croatia is not actually one week – it is a festive span of four months from June to September, where boat travelers charter private yachts and island hop from marina to marina, enjoying food, nighlife and the yachting lifestyle. Photo by Zuzana Prochazka.
Finally, there's the language. Eastern Europeans have an affinity for consonants and some island names (like Krk) have no vowels at all. Add to that a bounty of accent marks and plural and possessive word endings that change the spelling of a word completely, and most Anglophones are lost. However, Croatians love to practice their English and will go out of their way to help you. English is spoken in most restaurants and shops and a smile and some humor will get your through the rest.
Croatian Food: You Really Can't Go Wrong
The food and wine are excellent in Croatia. Along the Adriatic, the choice is usually fish paired with a local white wine. Every menu features the Croatian national specialty, cevapcici, which are skinless fingerling sausages made of minced pork, beef and lamb. They're eaten for breakfast, lunch or dinner with just about anything from eggs to French fries. Due to the numerous towns, provisioning is easy and affordable.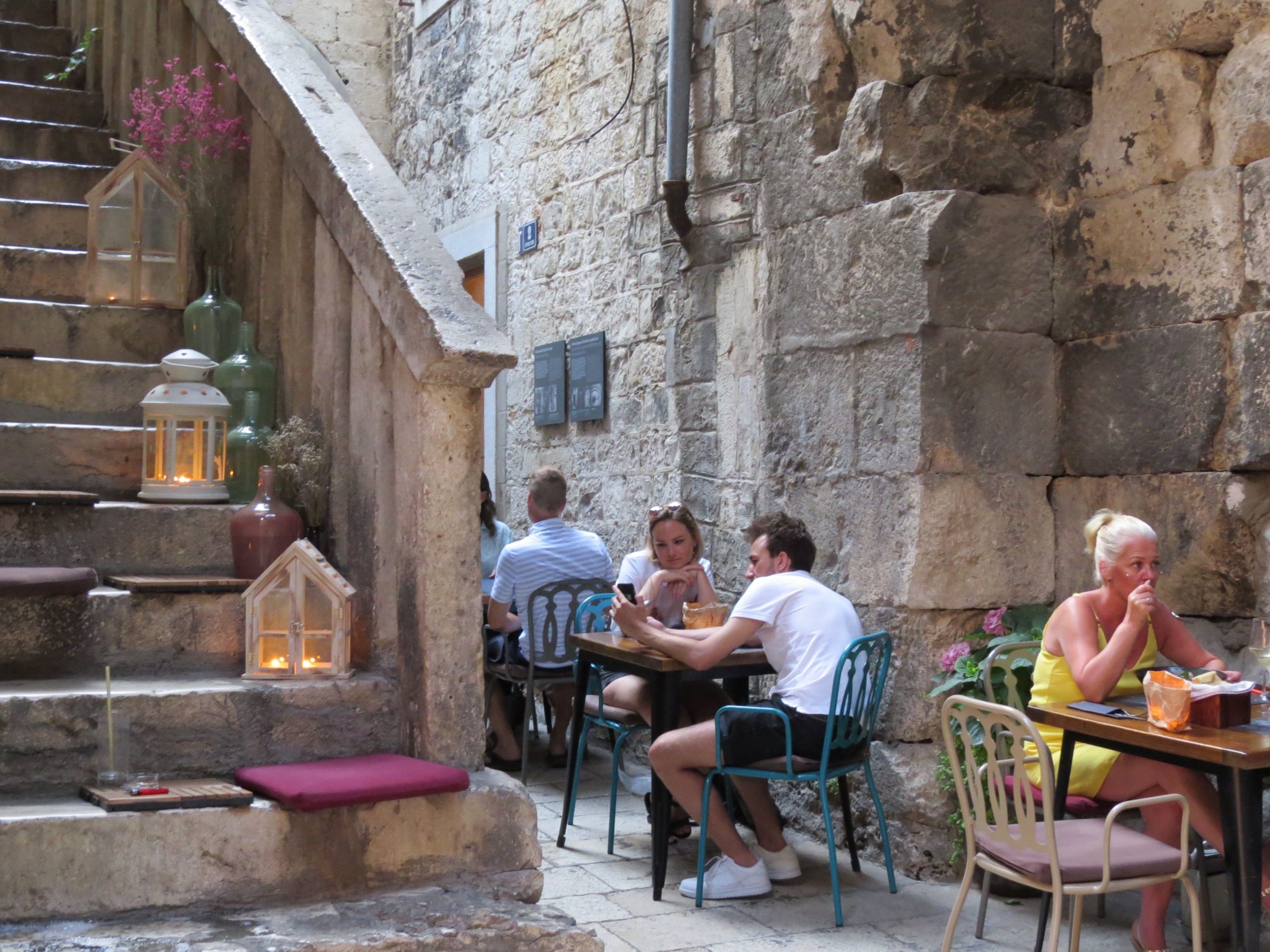 Above: A small outdoor restaurant in Split Croatia. Photo by Zuzana Prochazka for YachtWorld.
A week goes by quickly since it's a big cruising area so you may want to opt for two. Every stop offers an opportunity to lounge while enjoying a glass of rakija, Croatia's answer to grappa, or slivovica, plum brandy that will take paint off your car. By the end we realized that you really can't go wrong anywhere in Croatia whether it's sailing, history, food or charm that you seek. The country just seems to have a bit of everything. Book quickly and savor slowly – there's much to see and do.
Related
---