In October 2020, while I was living onboard in the Philippines, I had three typhoons pass over my location within two weeks. I had been onboard during severe tropical weather before, but it is difficult to explain the anxiety I experienced as sat alone watching each storm barrel towards me. Especially when the second system deepened into a super typhoon and smashed into the islands east of me with winds gusting over 300km/h.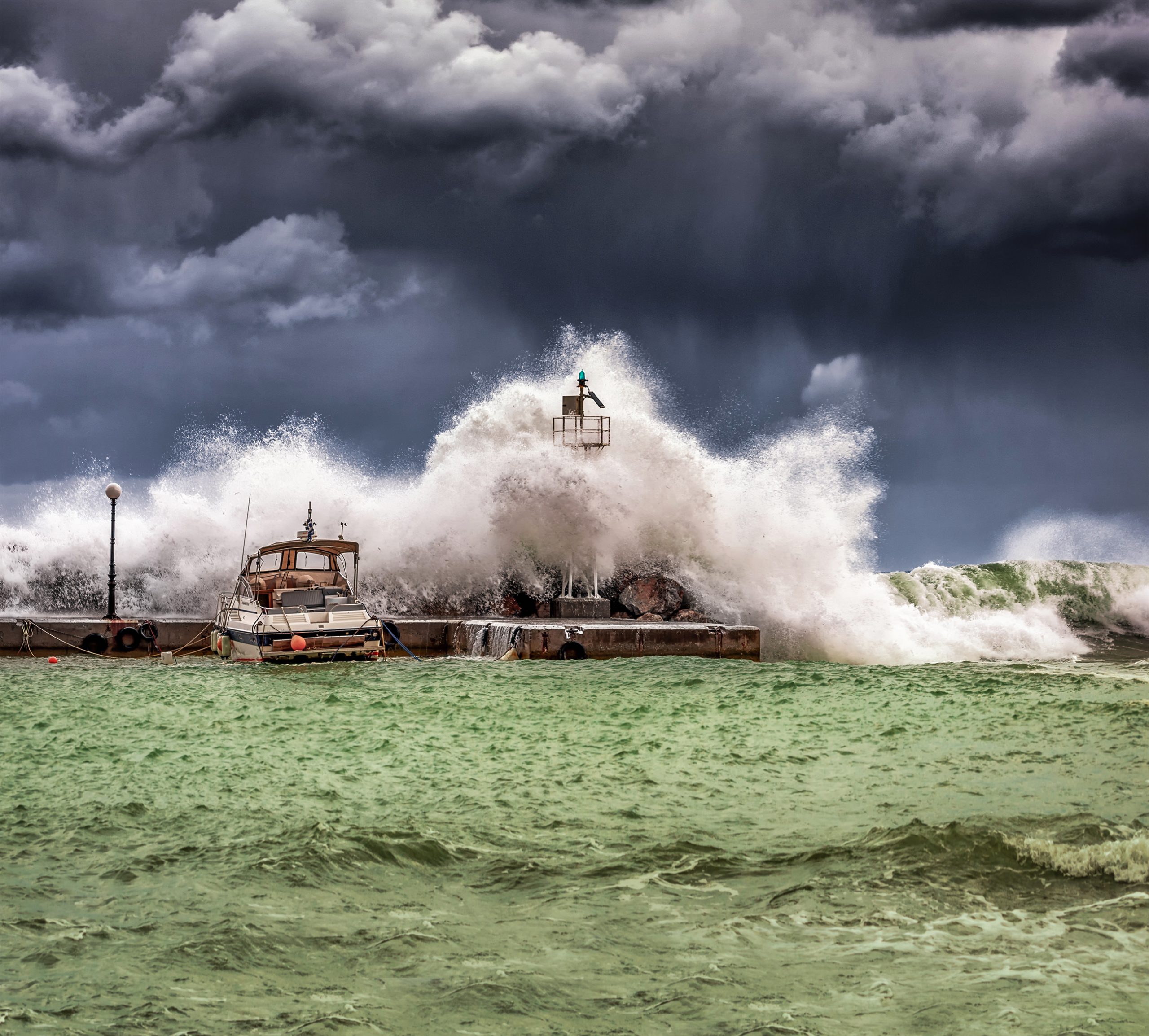 Above: A lone boat sits tied to a breakwater in a marina in a raging hurricane storm with big waves crashing over the docks. Photo by GEORGE DESIPRIS from Pexels.
I am proud to report that my vessel did not sustain any damage. I know that this is partially due to luck. After all, no one can influence the path or intensity of a storm. However, my diligence in preparing my vessel before the storms hit and maintaining a watch while the weather battered us also played a key role in our outcome. With storm season around the globe becoming more intense, it is important for boaters to educate themselves about how to handle a boat in storm, basic boating safety and what to do to mitigate damage.
Understanding Weather: Hurricane, Cyclone, Typhoon – What's the difference?
So what's the difference between a hurricane, cyclone and typhoon? To put it simply, the name. All of these words denote what is broadly known as tropical revolving storm. The difference between them is where they are located on the globe. Hurricanes and typhoons form in the northern hemisphere, cyclones form in the southern hemisphere. In North America and the Caribbean these tropical revolving storms are hurricanes, in Asia they are typhoons, and in Australia and the South Pacific they are cyclones. The only difference between a hurricane/typhoon and a cyclone is the direction in which they revolve. Tropical storms in the northern hemisphere spin in an anti-clockwise direction, in the southern hemisphere they spin clockwise.
The intensity of hurricanes and cyclones are rated on a scale between category 1 and 5. A category 5 storm having the highest winds and being the most destructive. Descriptive words like intense, severe, and super are used to describe the intensity of a typhoon. It should be noted that different weather organizations can rate the typhoon differently, one calling it intense, the other severe. I recommend that all boaters spend some time learning at least the basics about the weather in their area.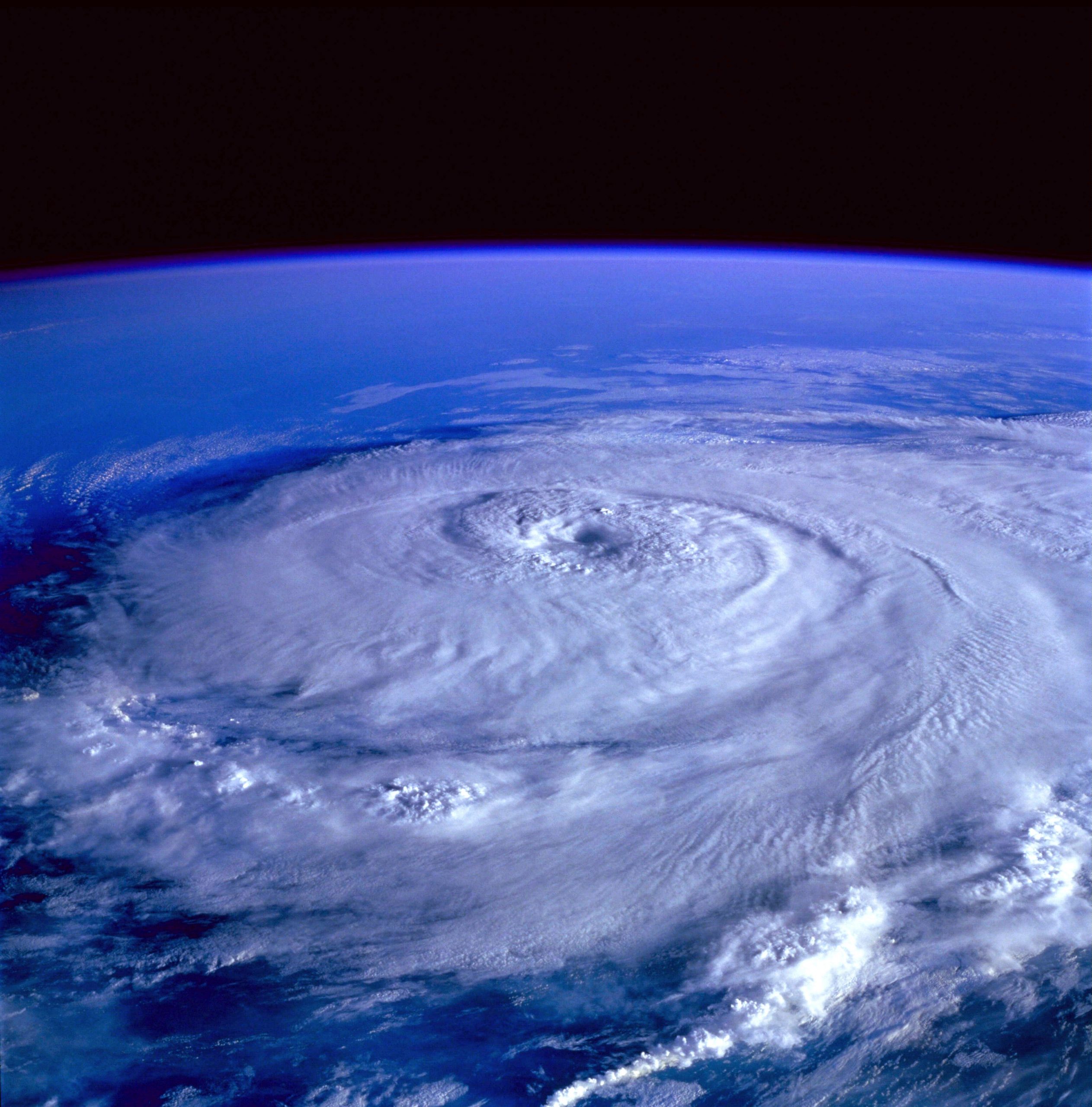 Above: A view from space of a hurricane storm system forming over the ocean. Photo by Pixabay via Pexels.
A key factor in preparing for a tropical storm system is to have a solid understanding of how those storms form and react. This goes beyond downloading your favourite weather app. Although modern weather forecasting is more accurate than ever, there will still be differences in forecasts between weather services. These differences are a result of how they gather data and which modelling system they use. Checking multiple forecasts is a good way to spot trends and discrepancies, which will give you a fuller picture of what to expect. If you are interested in doing a deep dive into marine weather I recommend Marine Weather University, an online platform created by Peter Isler and Chris Bedford specifically for boaters.
Remove Sails And Rigging: Take Down, Don't Tie Up
I have watched sails unfurl and flog themselves to shreds in the wind. I have seen Biminis and tarps sagging near breaking point under the weight of collected rain. I have heard of dinghies and outboards that were sunk or lost when they were flipped over by a gust of wind.
Whether you are storing your boat for the off-season in a known storm zone or preparing for oncoming weather while onboard, the approach is the same. Eliminate everything that could become a projectile, or become damaged by high winds. The easiest way to do that is to simply take down and secure as much equipment as possible. This includes sails, running rigging, canvas, the dinghy, surf boards, jerry cans and any other gear that you regularly keep on deck.
Many sailors are hesitant to take down sails, choosing instead to tie them. The problem with this approach is during a hurricane the wind does not come from just one direction. Rather, as the storm moves toward, over, and away from your vessel the wind will shift more than 180°. This means that it is easy for any tie downs to become loose, sails to unfurl, start flapping and be damaged.
Lines are prone to chafe and, if onboard during a storm, will be a headache of noise and vibration, no matter how tightly secured. When taking down your sails remove running rigging as well. I recommend snapping a few photos with your phone before disassembly, especially if preparing your vessel for long-term storage. This will make it easy to re-rig when you return in a few months. Also, with sails and running rigging removed, items like a roller furling drum and the boom will move more easily. Don't forget to tether and secure any heavy rigging left in place.
Equipment such as solar panels and wind generators are not always removable, but you can still act to prevent damage. If safely accessible, removing the blades from the wind generator will not only prevent it from spinning out of control but will avoid possible damage by airborne objects. If that is not an option tying the tail and the blades so that the wind generator is immobile is also a good option. Covering solar panels with a sheet of plywood will to prevent damage from things like falling coconuts, a real hazard in tropical locations where hurricanes and cyclones form.
Remove Canvas
Cockpit canvas is one item that sustains frequent damage during a storm. Seams can rip and tie downs let go in heavy and shifting winds. If you choose to leave your dodger or bimini up while away from your vessel for shade and general rain protection make sure you have arranged with the marina, caretaker, or a fellow boater, to remove it before a storm hits.
I know that stowing all the extra equipment down below can make for a tight squeeze if you are onboard, but it is worth the effort. It is hard to convey the ferocity of the wind during a storm but it is easy to underestimate its damaging power. When in doubt take it down, don't just tie it up.
Staying On A Mooring
Swinging on a mooring often feels much safer than anchoring. However, this is only true if the mooring you tie to has been properly constructed and maintained. If you haven't put down the mooring yourself it is important to ask if the mooring is rated to the size and weight of your vessel.
The owner or operator of the mooring should be able to tell you what they are using for a mooring block, and when the underwater lines and shackles were last renewed or inspected by a diver. If the owner is unable, or unwilling, to provide information about the mooring it should be considered unsafe, especially during heavy weather.
Even if your mooring is up to snuff, it is still important to take a few extra measures when preparing for a storm. It is normal practice to use two lines to tie to a mooring pennant. One line running from, and returning to, each port and starboard bow cleat. This method ensures that if one bow line lets go or chafes through, or if your bow cleat fails, the other line will hold your vessel securely to the mooring.
During heavy weather doubling up on mooring lines is advised. The second set of line should attach to the mooring further down the pennant and run to a strong point on the vessel besides the bow cleat. For instance, running the lines over the bow roller and back to a winch at the mast or in the cockpit. This will provide maximum security if the seas kick up and your boat starts bucking like a rodeo bull.
Anchoring During A Storm
One of the most important things to consider when choosing to stay on an anchor during a tropical storm is how much protection from both the winds and the waves the anchorage will provide. Remember, the wind will shift at least 180°, which will make many anchorages unsuitable.
Anchorages referred to as "Hurricane Holes" are harbors that have a narrow or dog-legged entrance that will dampen wave action, are usually surrounded by hills to provide maximum wind protection, have sticky mud bottom for strong holding and are neither too deep or too shallow for your vessel, regardless of the tide cycle. The only problem with a good hurricane hole is that they become popular spots during a storm.
With more than usual anchor chain paid out it can be easy to misjudge swing room and cause a collision, and drastic wind shifts mean there is the possibility of vessels dragging anchor and colliding. Either way, staying on anchor during a hurricane can be a very nervous time.
In the tropics many boaters seek the protection of a river or estuary, preferably one surrounded by mangroves. These waterways are narrow and often shallow but are not as affected by the fierce wave action experienced in exposed harbours. The dense network of mangroves provides several secure points to tie to, and muddy bottom mean good holding. However, these areas are still tidal, so it is necessary to investigate if there will be enough clear water for your vessel to float safely during dead low tide.
River areas are prone to flooding during heavy rains. Pointing your vessel up the river or estuary, regardless of the wind direction, will provide the least resistance to fast running currents that may result. Beware of large floating debris like logs that can get washed down a river during a flood.
What To Look For In A Boatyard
Many long-term cruisers end up leaving their vessel on the hard in a boatyard for seasonal storage, often during the less favorable for sailing, hurricane season. Like when choosing an anchorage, it is important to assess how the boatyard is situated and set up to weather a cyclone or typhoon.
Our boat sat through a cat 5 cyclone in Fiji and an intense typhoon in the Philippines. The boatyard designs were very different but they both provided an excellent safe haven during the storm. In Fiji they have "graveyard berths," trenches dug into the land for boat storage. The keel of the vessel is below ground and the hull rests on tires along the edge of the trench. This style of hard storage lowers windage and eliminates the possibility of a boat falling over during heavy weather.
The boatyard in the Philippines is located inside a very protected harbor. Hauled out boats are supported by both a tall metal cradle, and jack stands which are welded together so they cannot wriggle free. There are strong points in the concrete that you can run lines to, further preventing the vessel from moving during a storm. Most importantly, both boatyards are located on the lee side of the island to the prevailing direction that a cyclone or typhoon would approach.
Although finding a safe haven, and preparing your vessel before a cyclone or typhoon hits is critical, it is also important to check on your vessel during the storm. If you are staying onboard on the water this means going out on deck regularly to inspect lines for chafe, equipment for damage and that you are maintaining a safe position in the anchorage. In a boatyard it means checking that jack stands are tight and any items left down below are still secure. Checking weather updates regularly will keep you informed of the storms progress and leaving your VHF radio on channel 16 will ensure you, or any other vessel, will be helped in case of emergency.
The Calm After The Storm
When most people think of storm prep they think of everything to do to keep safe during the weather event. However, if you are staying onboard your vessel, or are ashore in the area, it is important to consider what you will encounter after the weather clears. In most cases the effects of a hurricane or cyclone linger for days, sometimes even weeks afterwards.
High winds cause wide spread power outages, often due to trees and debris that have fallen causing damage. Necessities such as fuel, food, and cash may be in short supply until power can be restored, which could be several days if roads are blocked. Keeping your vessel well stocked during storm season means you will be self-sufficient regardless of the conditions.
Heavy rains during a storm can cause flooding and landslides. This not only affects the local ground water supply but runoff can muddy harbors for days. If you regularly ferry water from shore this may mean your water supply can become undrinkable. Vessels equipped with watermakers may not be able to run them due to the high concentration of silt and debris in the ocean. Topping up water tanks before the storm arrives will ensure you have enough clean, safe water to last you a week or more.
In recent years storm seasons around the globe have gotten more severe, resulting in storms becoming more frequent, violent, and destructive. Whether you leave your vessel on a mooring, ride out a storm on anchor or store your boat on the hard my best piece of advice is, don't leave preparations until last minute.
Like checking your safety gear and plotting a route when preparing for a passage, it is important to have an action plan ready before a storm approaches. Reservations for boatyards and storm moorings book out months in advance, and safe anchorages fill up quickly. Being prepared means you won't get caught out in the storm.
Related
---