Looking for some of the best sailing movies or boating documentaries of all time? Is your idea of escapism watching real life stories of some of the most treacherous autobiographical blue water navigations ever made? A film can be life-affirming, heart-wrenching, terrifying and awe-inspiring just like yachting. Here we've selected a broad mix of films and documentaries, from much-loved forgotten classics to new releases. Counting from our favorite up to #33, here are the best sailing movies and boating documentaries.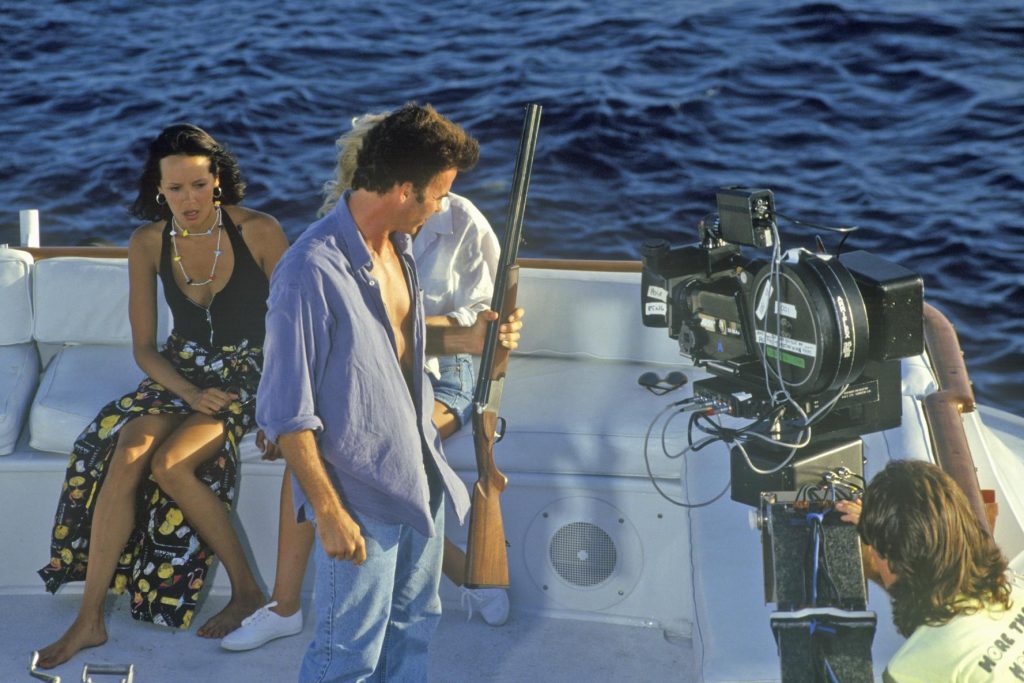 1 – Maiden (2018)
A documentary about Captain Tracy Edwards' and her first all-female crew on a quest to compete in the Whitbread Round the World Race. Much to her male competitors and yachting press' surprise Tracy and her crew refused to give up, and their performance changed history, and were the catalyst to the rise of women in the yachting industry. Make sure you have a box of tissues to hand!
2 – Sea Gypsies: The Far Side of the World (2017)
Sea Gypsies is a documentary that traces the journey of a band of sailors who are born, live, and die on their boats. Together, they travel the world on a gypsy boat built by hand. A captivating film refreshing to see people breaking out of the norm, living with different values, living out of the rat race in the largest expanse of uninhabited waters, rebuffing idealisms conjured up by the American Dream. This film has an air of Captain Fantastic.
3 – Sailing Bubbles (2016)
A YouTube documentary about Alex Rust, a former farm boy turned trader from Indiana who abandoned his life in Chicago in search of adventure, transversing the open water on a sailboat. The documentary features sincere interviews with his closest friends, family members, and travelling companions. And the footage he captured along the way is stunning. Follow his journey as he sails around the world.
4 – Swallows and Amazons (2016)
Based on a children's adventure novel 'Swallows and Amazons' by English author Arthur Ransome, first published on 21 July 1930. Four children go on vacation in the Lake District and sail on two dinghies (Swallow and Amazon) to an island. A war sparks off between them and some other children, alas they commence mock 'sea battles'. This film captures the spirit of youth and is packed full of adventure.
5 – The Weekend Sailor (2016)
A documentary about Mexican captain Ramon Carlin racing against the superstars of sailing in an around-the-world regatta: oh, and he had almost no experience in sailing! After a perilous 9 month round-the-world regatta, much to everybody's surprise, Ramon managed to win the overall prize. If you need some sailing inspiration, this film is a must-see.
6 – White Squall (1996)
White Squall is a 1996 film directed by Ridley Scott and starring Jeff Bridges as the boat's captain. Based on a true story, a group of young sailing students scheduled to spend an ill-fated school year learning how to sail face many misadventures while studying and working aboard a two-masted vessel named the Albatross.
There are some great lines about sailing. " You can't run from the wind. You trim your sails, face the music, and keep going." is a corker of a line, as is "Nothing happens on this ship that I don't know about. She speaks to me in the night. So don't test me, not even a little." words spoken by Captain Christopher Sheldon.
7 – I Sailed to Tahiti with an All Girl Crew (1968)
'Generous' Josh belittles the sailing abilities of his friend Terry O'Brien. Terry betts Josh $20,000 that, using an all-female crew, he can beat him in a race to Tahiti. Terry's crew consists of novice sailors consisting of a murderess, a cocktail waitress, and two other women who go along for the ride. While Josh has an experienced crew.
If you want to watch something lighthearted, cheeky, and fun, this adventure comedy film will make you smile from start to finish. It's also got a fun sixties mod feel, including a bizarre "silent movie" sequence.
8 – Kon Tiki (2012)
A legendary tale about the explorer Thor Heyerdahl's epic 4,300 mile voyage crossing of the Pacific on a play trailer. Heyerdahl builds a raft using the same techniques used 1,500 years ago by the indigenous people of Polynesia. Though he cannot swim or sail, he sets out on the ambitious 4,300 nautical mile journey across the Pacific from Peru to Polynesia aboard a small raft with a crew of five men. The ​​Norwegian film has been showered with awards, including being nominated for an Oscar and a Golden Globe.
9 – Red Dot on the Ocean (2014)
A moving real life story about Matt Rutherford, an incredibly troubled boy who changed his life around by getting into sailing. As a youth, Matt battled with ADHD and tics, making his life at home and at school an uphill challenge. At age 13 he was in drug rehab and spent his remaining teen years living on the streets. Then, at age 17, locked up in a cell, he had an epiphany and decided to turn his life around. Matt attended and excelled at a special high school that catered to troubled youths, where he developed a burning desire to explore the world. After graduating, he bought his first sailboat and become more involving in sailing, until one day, he set himself the mission of sailing a solo, nonstop circumnavigation of the Americas. Matt becomes a sailing legend.
10 – Maidentrip (2013)
At a mere 14 years old, Laura Dekker sets out on a two-year solo circumnavigation in pursuit of becoming the youngest person ever to sail around the world single-handed. After a long battle with authorities, Laura is able to enjoy exploring the world in a search of freedom. Laura's unorthodox approach to teenage life is refreshing and inspiring.
11 – Dove (2015)
A true story about a 16-year-old (Robin Lee Graham, played by Joseph Bottoms) who sailed alone around the world in a 23-foot sloop named "The Dove." Fate strikes, and on his journey, he meets and falls in love with a young woman (Patti Ratteree, played by Deborah Raffin) who is also traveling around the world. The story follows Robin around the world, where he gets to know many locals. He leaves his home as a boy and is shaped by his travels into a man.
12 – In The Heart Of The Sea (2015)
A reenactment of a true story about a whaling ship Essex that was sunk by a giant whale in 1820. The epic story later inspired Herman Melville to write the great novel Moby-Dick.
In The Heart of the Sea reveals the crews tortuous fight for survival, braving storms, and living in starvation, through panic and despair. Their captain navigates in the open sea, while his first mate still seeks to get revenge on the great whale.
13 – One Crazy Summer! (1986)
One Crazy Summer is a rom-com film written and directed by Savage Steve Holland, starring John Cusack and Demi Moore. It's about a bunch of kids who have graduated from high school, ready to take on the world. An epic battle takes the form of a sailboat race to Nantucket Island.
14 – Coyote: The Mike Plant Story (2017)
A documentary on Mike Plant lived his life through an unconventional set of rules, leading him to dark corners of the world before discovering his passion for offshore sailing. His thirst for adventure leads him to sets off on a solo circumnavigation around the world on Coyote, a boat built with speed and safety in mind. This documentary also dives into his past which involves a drug trafficking charge, a Portuguese prison, and a trip across South Africa. Mike Plant is a handsome man, whose good looks and charisma sparkle on screen.
15 – The Old Man And The Sea (1990)
An adaptation of the world-famous classic novel by Ernest Hemingway. Santiago sets off his usual fishing trip and makes the biggest catch of his life. Then a shark attacks and tries to steal his catch. He returns to the shore beaten, broken, and his catch consisting a carcass with barely any flesh left. The film stars Anthony Quinn and Patricia Clarkson.
16 – Adrift (2018)
A heart-wrenching true story that chronicles a couple on a treacherous journey through the ocean during Hurricane Raymond in 1983, one of the most ruinous hurricanes recorded in history. A couple are left adrift in the middle of the Pacific Ocean and must find their way to Hawaii in a damaged boat and no radio. Adrift is based on the book Red Sky in Mourning by Tami Oldham Ashcraft first published in 2002.
17 – Fastnet
An incredible YouTube documentary about a father and son who sailed the Atlantic in 1979 Fastnet race during a force 10 gale, the last of the Admiral's Cup events in that year. A huge search and rescue operation was deployed to find 150 yachts that went missing in a 20,000 area square of the Irish Sea. This is a tale about sailing, weather and survival. Warni- it makes even the most hardened sailor never want to sail again!
18 – 1998 Sydney to Hobart
This YouTube documentary recounts one of the most deadly disasters in history, the 1998 Sydney to Hobart Yacht Race one was the most disastrous in the race's history, with the loss of six lives and five yachts.55 sailors were rescued in the largest search and rescue effort ever seen in Australia.
19 – Stomping Grounds (2021)
Not strictly sailing themed per se, but Stomping Grounds video series is an absolute must-see boating documentary. Learn more about local boating cultures across America , Ryan McVinney travels around America's waterways, chatting to locals who regale their boating adventures. Who knew the boating culture across America's waterways is so incredibly diverse? Expect to binge-watch your way through the series on Boat Trader's YouTube channel.
20 – All is Lost (2013)
A sailor, played by Robert Redford, finds himself in a collision with a shipping container. This film is marmite to sailing enthusiasts. Some love it, and some hate it. Either way, it's worth watching to join in the conversation. Catch Robert Redford in his one of his most somber, isolated roles as he carries the film from start to finish.
21 – Horatio Hornblower: The Even Chance (1951)
Horatio Hornblower is the protagonist in a series of naval adventure novels by English novelist C.S. Forester, featuring the legend that is Gregory Peck. Set during the Napoleonic wars in 1807. Captain Horatio Hornblower leads his vessel, the HMS Lydia on a treacherous voyage around Cape Horn and into the Pacific.
22 – Legends
We couldn't bypass our very own documentary series, YachtWorld LEGENDS. Ok, so strictly speaking, it's not necessarily a "sailing" themed show (although we do feature one sailboat in the series – a Hanse 575). However, LEGENDS does take a look at the world's most spectacular superyachts and cover the lifestyle aboard as these bluewater cruisers conquer the 7 seas. For eye-popping candy and escapism, tune in to the LEGENDS video series on YachtWorld's YouTube channel.
23 – Distant Shores
Follow Paul and Sheryl's sailing adventures. Another YouTube documentary, this video series, is informative with lots of tips for sailors planning to sail away, plus destination information to help you make your cruising plans. It's not a must-see, but if you want to get an insight into bluewater sailing and cruising by watching before you do it yourself, this is an ideal starting place.
24 – 600 Days to Cocos Island (1984)
A great insight into cruising life during the 1970's. A couple venture into the equator, across the Pacific, 1000 miles from land and beyond. And, as if that wasn't a big challenge alone, they did it on a small sailing craft, a 32 foot Pearson Vanguard sloop. If you want to know what it's like to live on a boat and travel around the world, this is definitely worth watching.
25 – Voyage of the Mimi (1984)
The Voyage of the Mimi is a thirteen-episode American educational television program depicting the crew of the Mimi exploring the ocean and taking a census of humpback whales. Rereleased in August 2014, the documentary series had a revived interest as it was now available in digital format through iTunes. Viewers of the show learn something about sailing life in every episode, from science to navigating on the water and the biology of the sea to ocean ecosystems. The series also notably marked Ben Affleck's debut television role.
26 – Captain Ron (1992)
A feel-good summer sailing must-see classic starring Kurt Russell, this American comedy was directed by Thom Eberhardt and features an interesting dichotomy of seafaring and suburban lifestyles that combine on screen for some swashbuckling humor. To sum up the movie, a lucky (or unlucky, perhaps) man inherits an old yacht and takes his family to a Caribbean Island where he hires Captain Ron, whose unusual approach rather takes him by surprise. Together, they sail on to Miami. As of 2022 the film is available on streaming platforms such as Roku, Prime Video and Apple TV.
27 – Styx (2019)
A doctor embarks on a sailing trip alone on a twelve-meter-long yacht fulfilling her long-held dream of sailing from Gibraltar to the small island of Ascension in the Atlantic. She begins to organize to help them, but through doing so she risks their lives, and her own. A story about compassion and empathy. This film is culturally relevant and
28 – The Mercy (2018)
A British film featuring Rachel Weiz and Colin Firth based on the true story of the disastrous attempt by the amateur sailor Donald Crowhurst to complete the Sunday Times Golden Globe Race in 1968 and his subsequent attempts to hide his failure.
29 – Abandoned (2015)
In 1989 the trimaran yacht, Rose Noelle, set sail from New Zealand, heading for Tonga with a four-man crew on board. The vessel capsizes due to a freak wave, and the crew are left adrift. The crew survived for over 119 days at sea before finally landing on Great Barrier Island.
30 – Master and Commander: The Far Side Of The World (2003)
Set during the Napoleonic war in 1805, H.M.S. Surprise, a British warship, is under the command of Captain Jack Aubrey (Russell Crowe). His quest is to track and capture or destroy a French pirate named Acheron who is in the Atlantic, off South America headed toward the Pacific in order to extend Napoleon's reach of the wars. The film is highly acclaimed and won two Oscars.
Interesting fact: Russell Crowe was required to learn how to play a violin for this film. He has been referenced claiming that it's the hardest skill he's had to learn for a film.
31 – Titanic (1997)
We all know this one! Although it's not strictly a sailing film, we couldn't miss the opportunity to include Titanic on our list. This film is an accounts of the sinking of the RMS Titanic, after it breaks in half after hitting an iceburg. The film stars Leonardo DiCaprio and Kate Winslet who fall in love aboard the ship during its ill-fated maiden voyage. The film features footage of the actual Titanic wreckage site which Cameron shot in 1995.
32 – Moby Dick (1956)
Captain Ahab (Gregory Peck) sets out to get revenge on Moby Dick, a great white whale responsible for taking off his leg. He sets out on a dangerous sea voyage aboard The Pequod, with a crew including Starbuck (Leo Genn), Father Mapple (James Robertson Justice) and Ishmael (Richard Basehart), on a quest to hunt down the sea beast. Directed by John Huston.
33 – The Perfect Storm (2000)
Captain Billy Tyne and his crew embark on a fishing expedition aboard a swordfishing boat, the Andrea Gail and it's their last trip of the season. Out of nowhere, an unexpected destructive storm strikes before The National Weather Bureaux has a chance to forewarn them. Based on the true-life best selling novel by Sebastian Junger.
The Perfect Storm features A-list star George Clooney, alongside Mark Wahlberg and Diane Lane. German film director Wolfgang Petersen directed and produced the movie.
More Boating Videos To Watch
We hope these films inspire you to get out on your boat and into the deep blue long after the credits stop rolling. If you've worked your way through the whole list, next you can go subscribe to the YachtWorld YouTube channel for our regularly updated yachting and boat life content with episodes of our documentary series Cult Classics, LEGENDS and others being released throughout the year. We also publish countless walkthrough videos and boat reviews, in case you're in the market for your own vessel. And if all this video watching has you tired of the couch, perhaps it's time to get out there and film your own bluewater cruising adventure!
Related