Cult Classics is a new video series from YachtWorld about a select group of venerated yacht builders who have earned an extremely loyal following of devoted fans and owners, helping them achieve an almost "cult-like" status. From classic Downeast-style yachts with distinctive lines to iconic seaworthy titans, and revered boats with a unique and notable heritage, the series explores the stories, creeds and principles behind these esteemed vessels in great detail.
Each episode of the Cult Classics video series visits a different boat builder and explores the company's history in depth, focusing on one or two popular models that really exemplify that builder's ethos and boat building philosophy.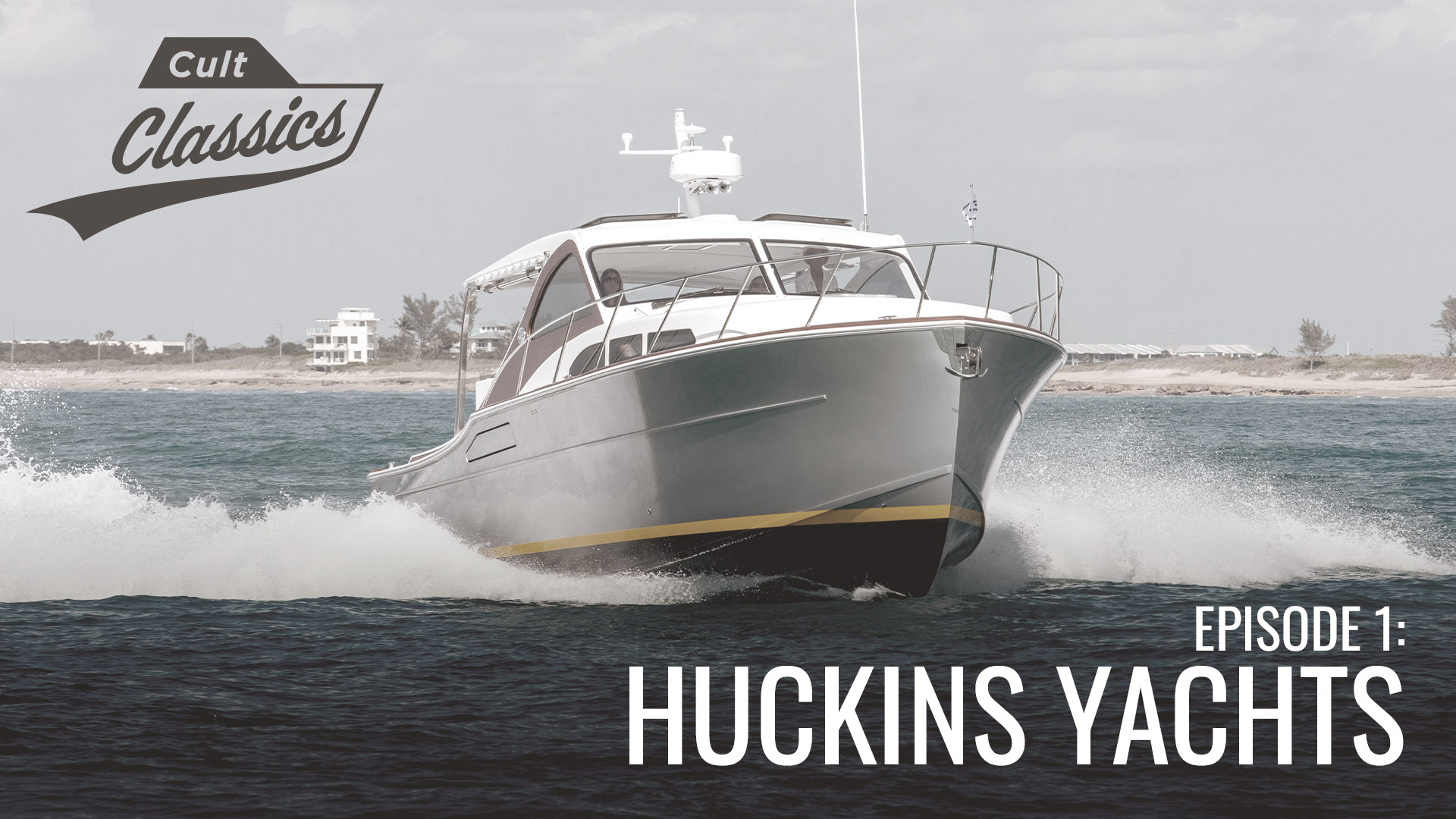 EP. 1: Huckins Yachts: From WWII PT Boats To Modern Yachts
In the inaugural episode of Cult Classics, YachtWorld visits Huckins Yachts, and focuses on the company's storied evolution from from its founding in 1928 to building World War II era PT boats and up to their current classically-styled Sportsman 38 yacht – a modern hybrid diesel-electric boat. Constructing yachts that offer a unique blend of traditional styling with the cutting-edge materials and processing techniques, Huckins Yachts continues their proud history of boat building that has earned them a loyal following of owners and fans. From the early days to their latest vintage-style yet modern boats, the builder stays true to their original philosophy.
Video Chapters
0:00 Intro
0:53 World War II Era PT Boats
2:07 Cindy Purcell Owner of Huckins Yachts
2:56 1920s History – First Planing Hull Designed
3:31 Elite Famous Celebrities And Fast Planing Hulls
5:12 Yacht Model Lineup Evolution
5:38 Huckins Sportsman 38 – Hybrid Diesel Electric Yacht
7:04 Fairform Flyer – Huckins Mermaid Logo
7:50 Post War Yacht Building And Expansion
10:50 QUADRACONIC Hull and Plywood Derby Origin
11:35 Modern Production Boats
A Brief History Of Huckins Yachts
Huckins Yachts founder Frank Pembroke Huckins – aka "Huck" – invented one of the first true planing hull forms in 1928, known as the Huckins Quadraconic hull. During World War II Frank Huckins and his company designed a balanced outboard rudder used on WWII PT boats and all postwar boats through the 1970s. In the late 1960s Huckins Yachts built the largest sportfishing yacht in the United States, when they constructed an 80-foot boat for a customer. In 1976 the company again continued pushing innovation in the marine industry when they unveiled the largest motor yacht in the country with a fiberglass-cored hull (cored with closed-cell PVC extrusion AIREX). Again in 1986 Huckins built the largest yacht in the U.S. powered with Arneson surface piercing propellers. Most recently Huckins introduced the new but vintage style Sportsman 36 and then the Sportsman 38, both with available green hybrid power connected to fuel efficient pod drives.
For more episodes of Cult Classics be sure to subscribe to YachtWorld's YouTube channel.
View Huckins Yachts for sale on YachtWorld now.
Related
---