Every boater knows there's a great deal of responsibility that comes with packing the cooler — from choosing snacks and drinks the whole crew will love, to keeping the contents cold all day long. Here are our top five foods and drinks to fill your boat cooler this Memorial Day.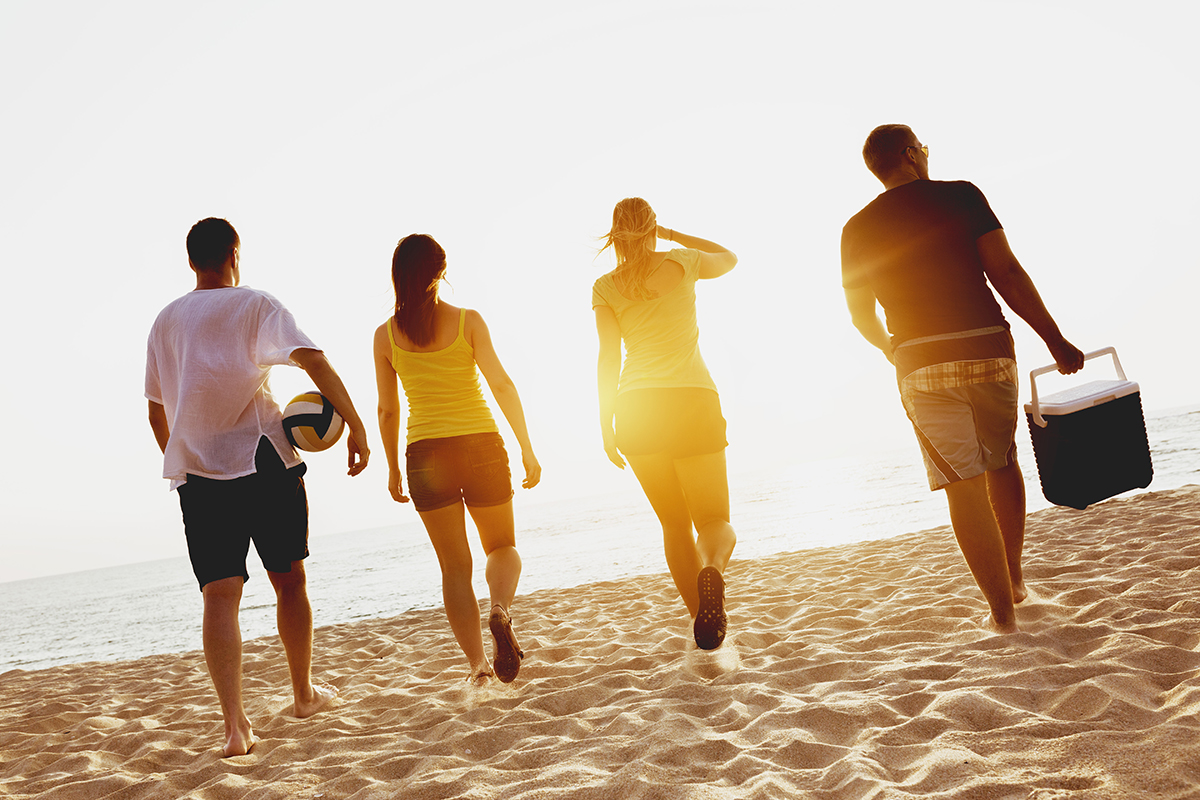 Above: A group of friends picnicking on an empty beach on a sandbar accessible only via boat. Photo via Pond5.
DIY Craft Cocktails
There's nothing better than a relaxing cruise to celebrate happy hour. Why not kick it up a notch with unique craft cocktails? Make sure to bring boat-friendly glassware and bar tools, along with your homemade syrups, small-batch bitters, pre-sliced lemons and limes, and decorative garnishes. You can even opt for tropical or Prohibition-era themes for extra personality.
Deconstructed Charcuterie Board
Complement your craft cocktails with an assortment of cheeses, charcuterie meats, crackers and veggies. You'll want to pack plenty of toothpicks for food handling.
Pasta Salads Jars
Make your pasta salad the night before for an easy grab-and-go meal. In the morning, toss with the dressing and divide into mason jars or cups with lids for easy transport.
Veggie & Protein Kabobs
Finger food is always a safe bet when you're spending the day on the water. Mix it up from the usual sandwiches and chicken nuggets with simple veggie and protein kabobs—easy to prep, pack and enjoy.
Popsicles & Prosecco
Sure, kids love popsicles on a hot day, but this combo is for adults. Pack organic, real-fruit popsicles and a bottle of Prosecco. Then stick the popsicle in your Prosecco for a bubbly treat!
Bonus: Ice Cubes with a Twist
After you pack the cooler with ice, set aside a pair of ice tongs with a separate bag of ice for your beverages. Score extra points by freezing your own in Tupperware molds with blueberries or strawberries and lemon or mint.
When you're ready to pack all of your Memorial Day goodies, make sure to start with a chilled or room-temperature cooler. Some larger coolers have inserts or bins that protect your food from cans and bottles so they don't get soggy. You can also secure your food in Ziploc bags and then wrap with a towel for extra cushion.
Editor's Note: This article was originally published on boats.com in May 2020.
Related
---