Discover Boating's Miami International Boat Show 2022 is a hotly anticipated show that takes place each President's Day Weekend. This year, much will be new and different – including the official name for a years-old show (now including the "Discover Boating" name in the title). After a pause last year for Covid, the Miami show is scheduled to make a splash February 16-20 (Wednesday – Friday, which are new days) and will spread over six venues including the newly rebuilt Miami Beach Convention Center.
The show will open each day at 10:00 AM and will include the convention center itself with tons of boats and gear inside, Pride Park with activities and marine accessories, One Herald Plaza with powerboats and motor yachts 30-125 feet, Sea Isle Marina with 150 vessels, Museum Park Marina with sailboats and sailing gear, and IGY Yacht Haven on Watson Island for the SuperYacht Miami showcase.
Two Shows Combine Into One Major Event
This year the the National Marine Manufacturers Association announced a partnership with Informa Markets to merge the Miami International Boat Show and the Miami Yacht Show, including Superyacht Miami, which creates one of the largest marine events in the world. In fact, this year's boat show has been dubbed a "supershow". As mentioned above, the newly reimagined Miami Beach Convention Center will be the home for all of the on-land portions of the show. The in-water activities will be centered around the exhibitors at Sea Isle Marina (at One Herald Plaza) and Island Gardens Deep Harbour on Watson Island.
If you're in the market for a new sailboat or a size-able motor yacht – i.e. sail, power or even hybrid electric – here's a sampling of what you'll find for new boat debuts at the show in 2022, beginning with sail, then looking at power boats.
Dufour 480 Catamaran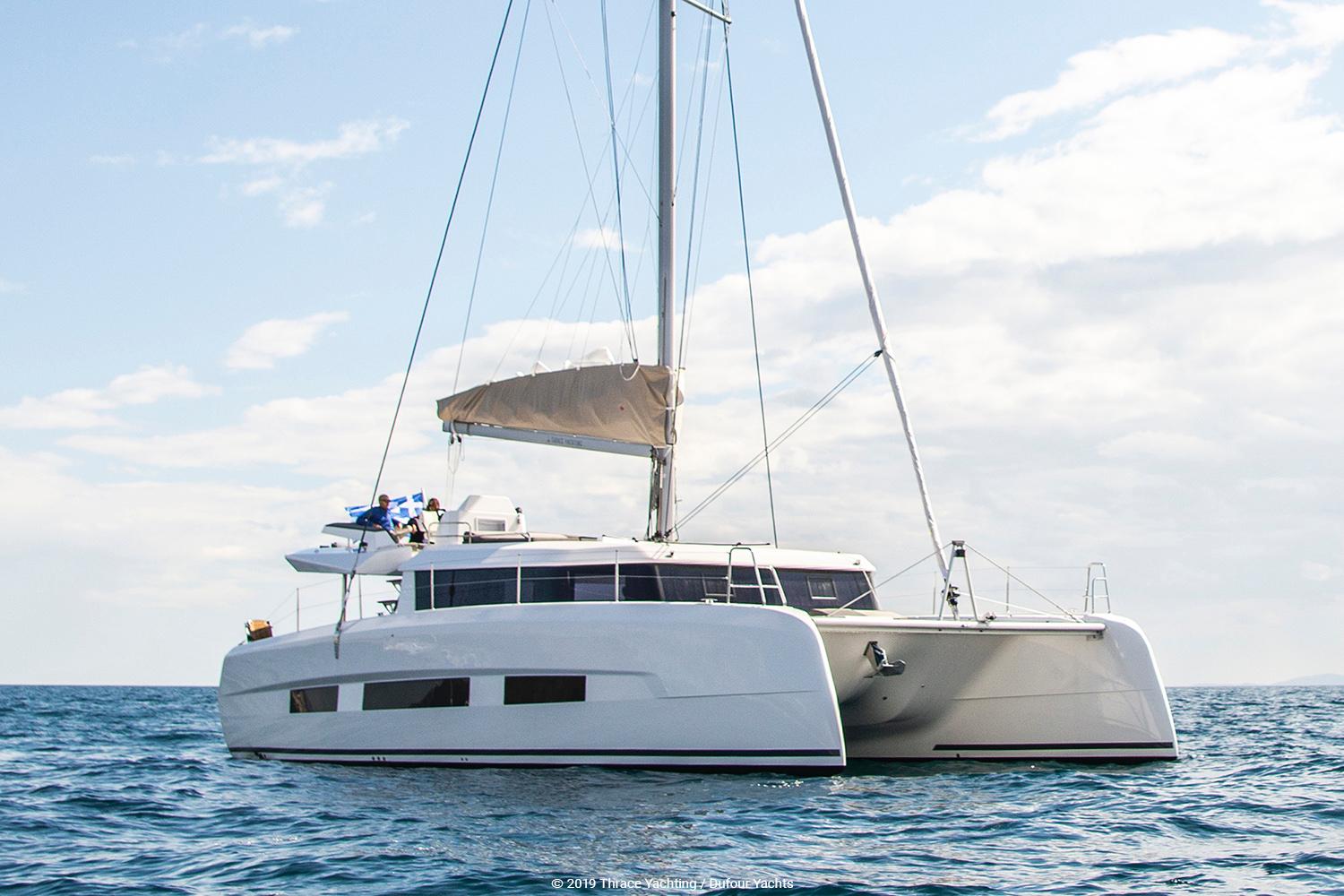 Above: A 2022 Dufour 480 Catamaran yacht for sale on Yachtworld. Photo by Labea Yachting in Athens, Greece.
Let's start with a posh multihull from a builder that has always been known for their slippery monohull sailboats. From the drawing board of Felci Yacht Design, this catamaran has been long awaited in a world where cats are a fast-growing segment of boating. Both owner and charter versions are available.
This cat takes some liberties with traditional catamaran layouts and to good effect. Two large sunpads are aboard – one on the foredeck behind a trampoline that's much abbreviated and one on the flybridge just ahead of the helm station that's unusually far aft. (This means that visibility should be improved when backing into a slip.)
A hydraulic swim platform carries the tender or creates a teak beach and the sail plan is simple with a large mainsail and a self-tacking jib. It's a stylish boat with the promise of exceptional Dufour-like performance.
Beneteau Oceanis 34.1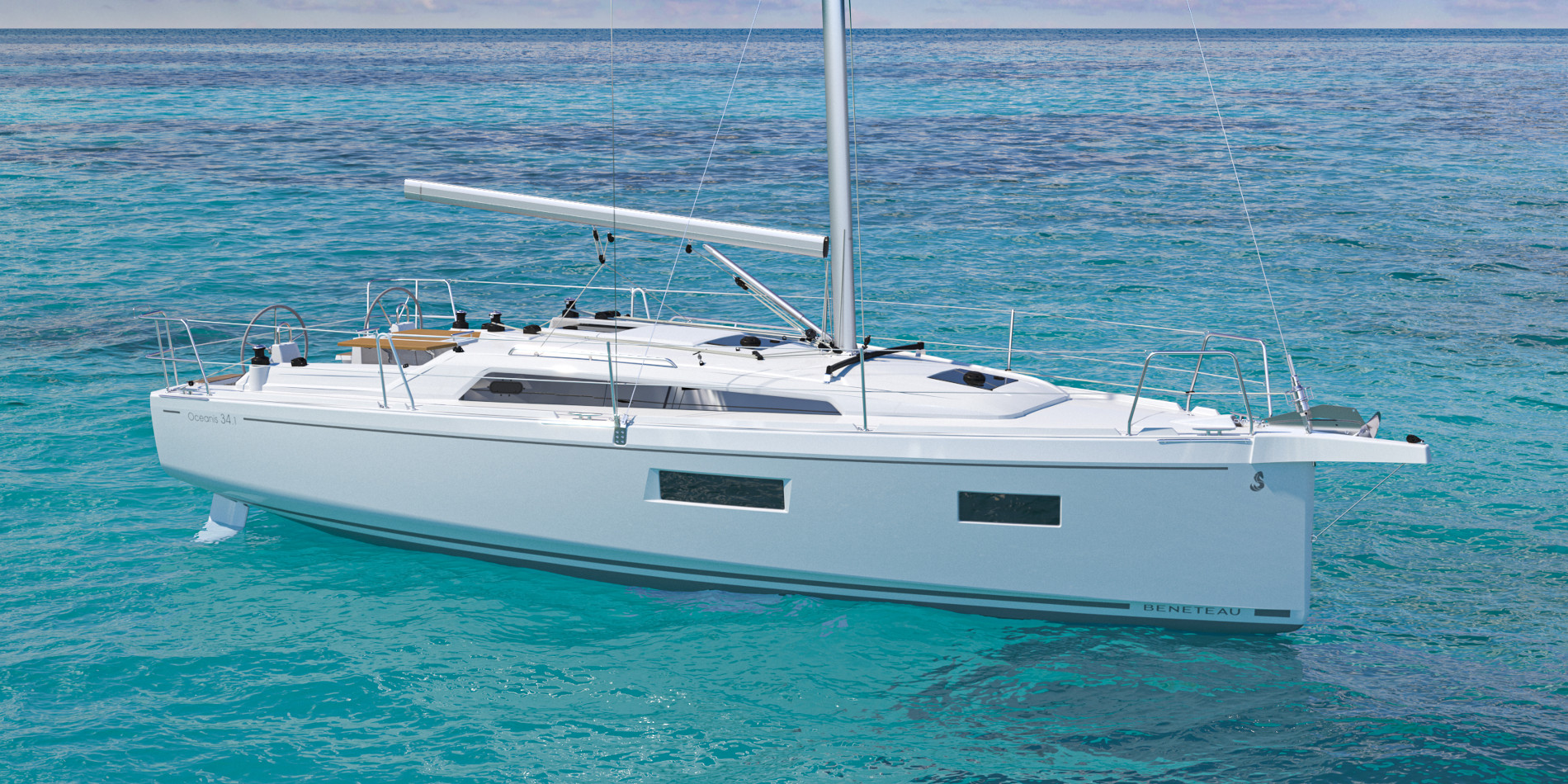 Above: A 2022 Beneteau Oceanis 34.1 yacht for sale on YachtWorld. Photo by Sail Place Inc in Muskegon, Michigan.
A new entry in the 35-foot range is the Marc Lombard-designed Beneteau 34.1 with more interior volume as well as a larger sail area for better performance. The basic suit of sails includes a 334-square-foot mainsail and a 197-square-foot-jib. A larger, 280-square-foot genoa can be added as can extra winches and a bowsprit that serves as the attach point for downwind sails. Three keels are offered including shoal, deep draft and swing for exceptional upwind work. Twin wheels and rudders are standard and the transom drops down to form a swim platform.
Three cabins can be tucked into this compact model including the master forward and twin cabins aft. Two more crew can sleep in the salon in a pinch. A fold-up navigation station is to port and a drop-leaf table deploys to accommodate four for dinner. It's a neat and tidy package with everything a couple or family needs for coastal cruising.
Jeaneau Yachts 60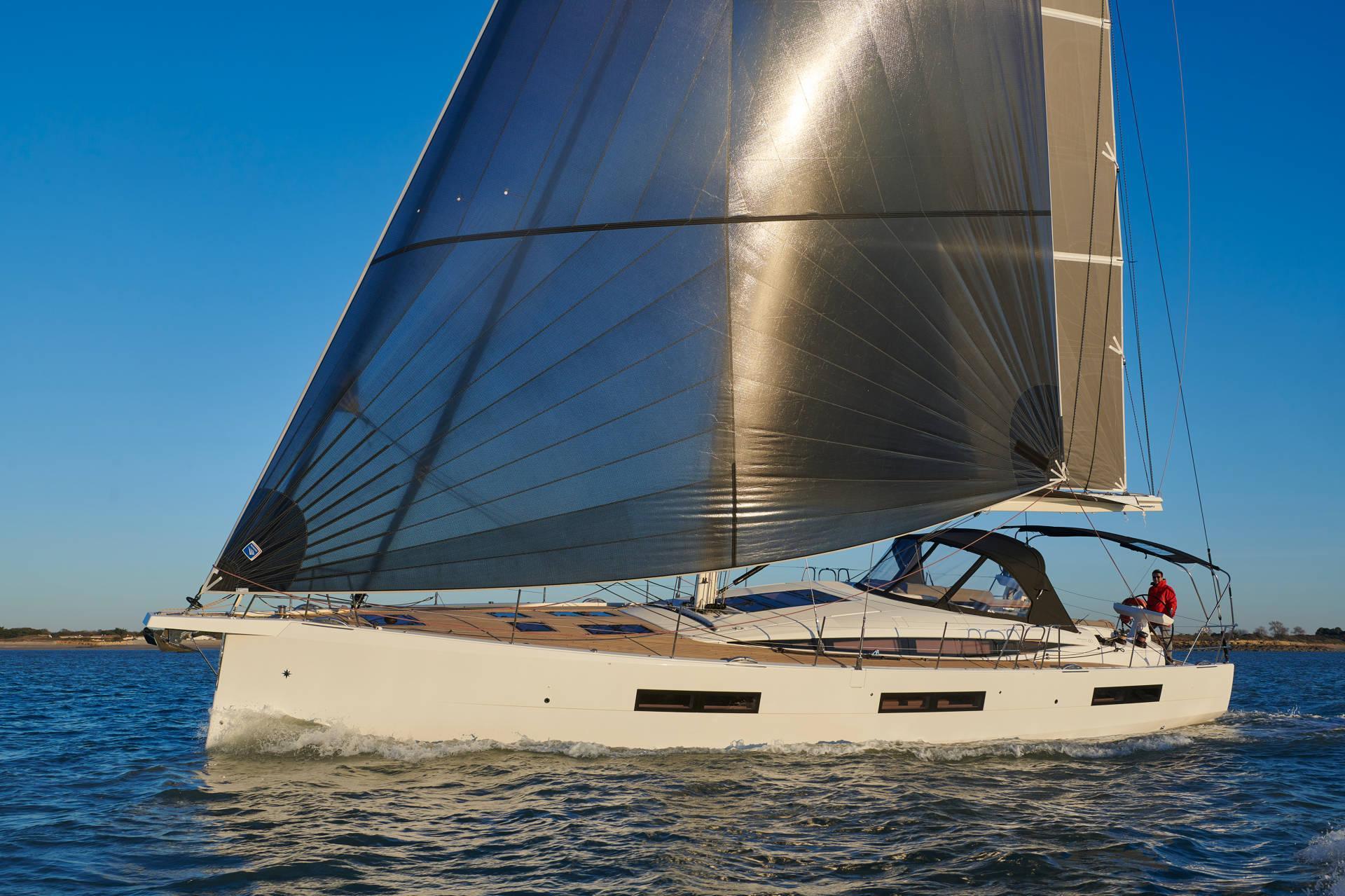 Above: A 2022 Jeaneau Yachts 60 yacht for sale on YachtWorld. Photo by Bluenose Yacht Sales in Newport, RI.
Stepping well up in length and amenities, you'll find the new French-built Jeanneau Yachts 60. Designed by Philippe Briand with interior styling by Andrew Winch, the new model sports the award-winning walk-around deck that was made popular on her small sisterships. This world-cruiser is offered with various sail plans and rigs and up to 19 different layout configurations.
The cockpit is broad and open with twin wheels and a Bimini top with a soft opening section. With the drop-down transom open, you'll be able to access the longitudinal garage that accommodates a 10-foot tender. Surprisingly, this swanky model isn't the flagship of the line, but she sure looks and sails like one.
Lagoon Sixty 7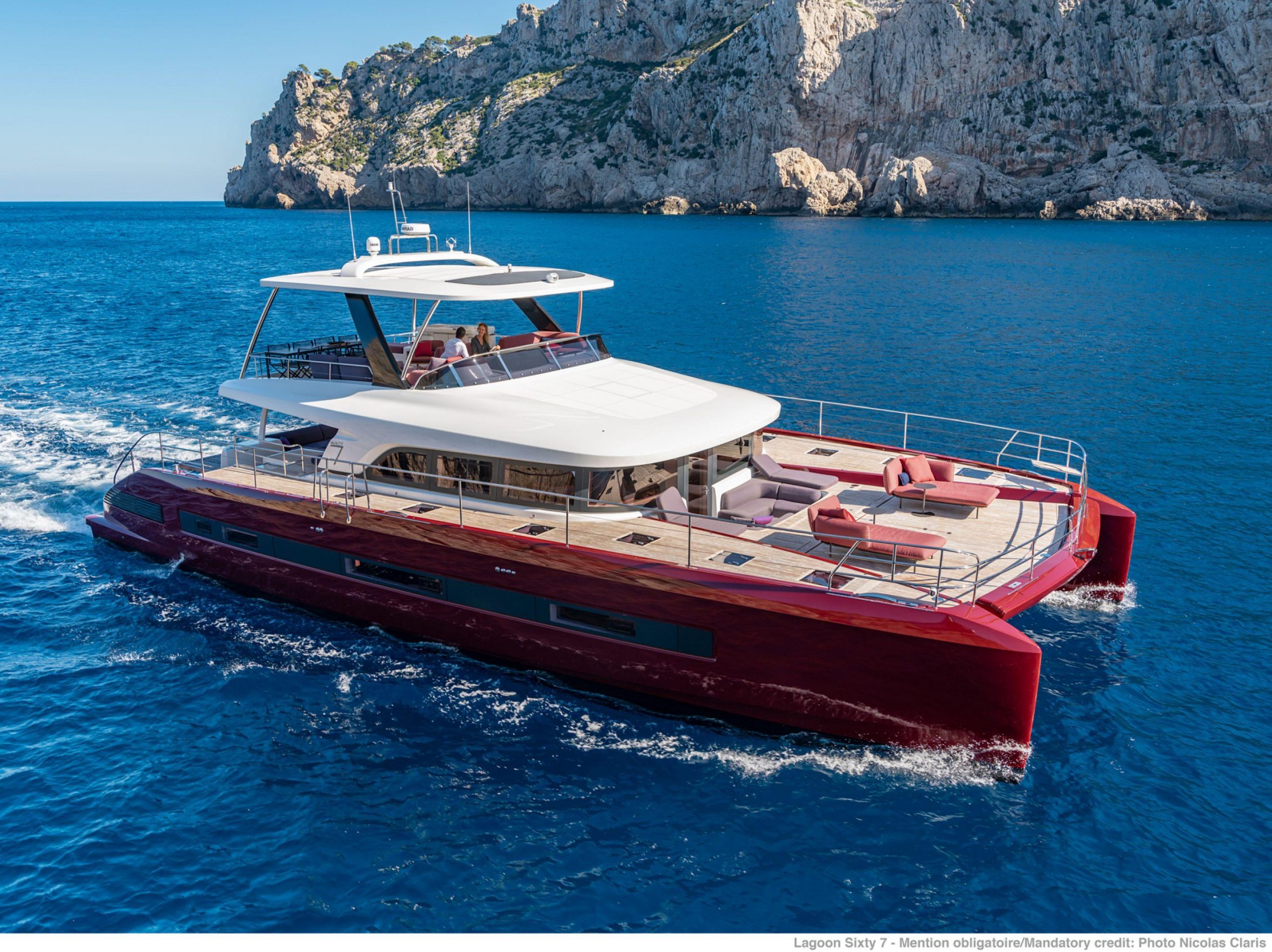 Above: A 2022 Lagoon Sixty 7 power catamaran yacht for sale on YachtWorld. Photo by Lagoon Yachts/Nicolas Claris.
Switching from sail to power, a boat you should check out is the VPLP-designed powercat (PC) that has a sailing sistership (the Sixty 5) and replaces the 630 PC. The new design reportedly offers up to 30% more floor area inside and out and much of that is on the solid foredeck that now has a sunken lounge as well as giant sunbeds. A thick glass door separates this space from the salon but when it's open, there's an easy flow that ties together the whole main deck.
If the three separate social areas aren't enough, you can try out the views from the flybridge that also has a summer galley and outdoor dinging for eight. The recluse in you can even escape to the hydraulic swim platform that forms a teak beach where you can sit with a book, away from the onboard crowd. With 5,500 gallons of fuel, the Sixty 7 has long legs so you can explore far-flung coves in the Med, the Caribbean or wherever cruising takes you.
Horizon PC 60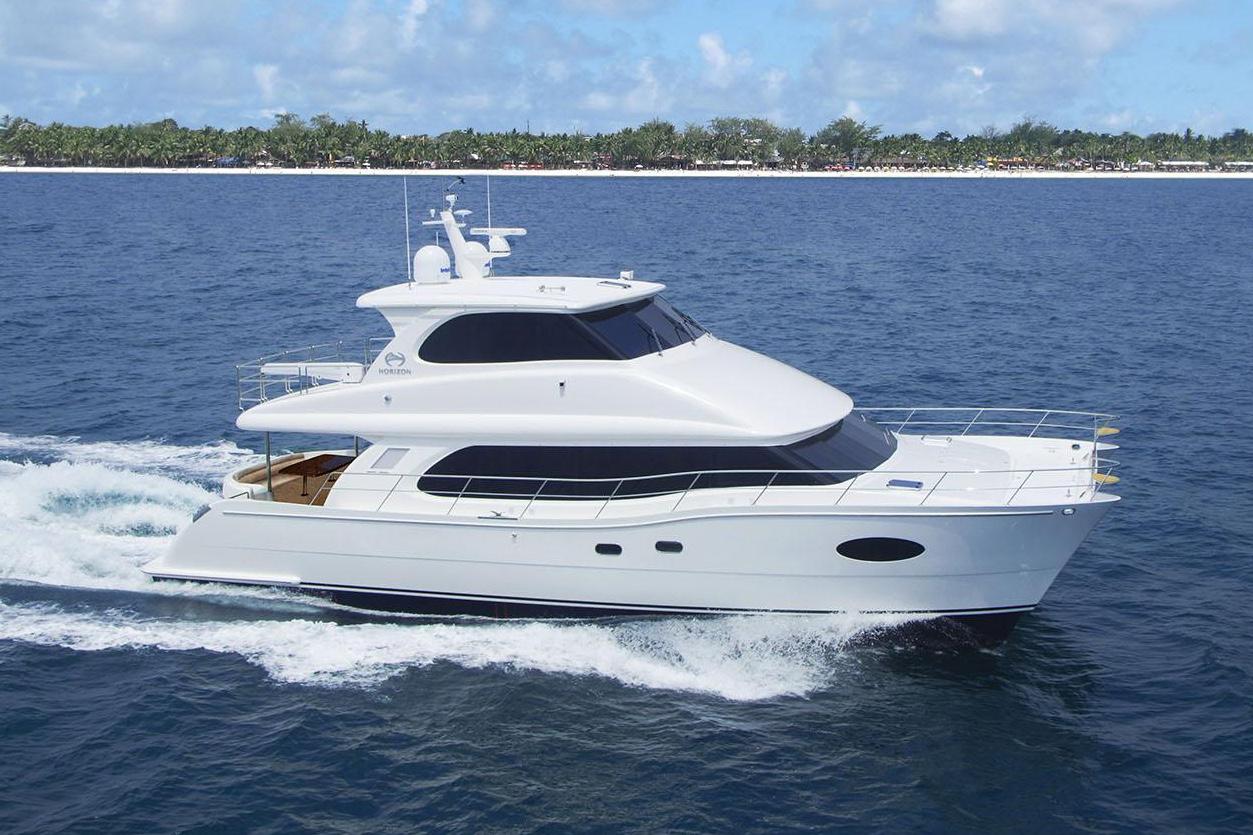 Above: A 2022 Horizon PC60 luxury yacht for sale on Boat Trader right now. Photo by Horizon Yachts.
Since power cats have become so popular, here's another model to take your breath away. The Horizon PC 60 is all about luxurious space and if you're lucky, you may be able to find one to charter some place magnificent before deciding to buy. The focus is on the interior – in fact, even the flybridge can be enclosed for travel to more extreme climates.
The model is offered on a semi-custom basis so plenty of personalization is possible. The salon shares space with the galley in a great room layout and the main seating rea can be to the side or forward. In the first version, you can add the master suite on the same level and with full views ahead. The sky's the limit with customization so if you need a boat that's all about you, put the Horizon PC 60 on your shortlist.
Viking 68C Convertible Sport Fishing Yacht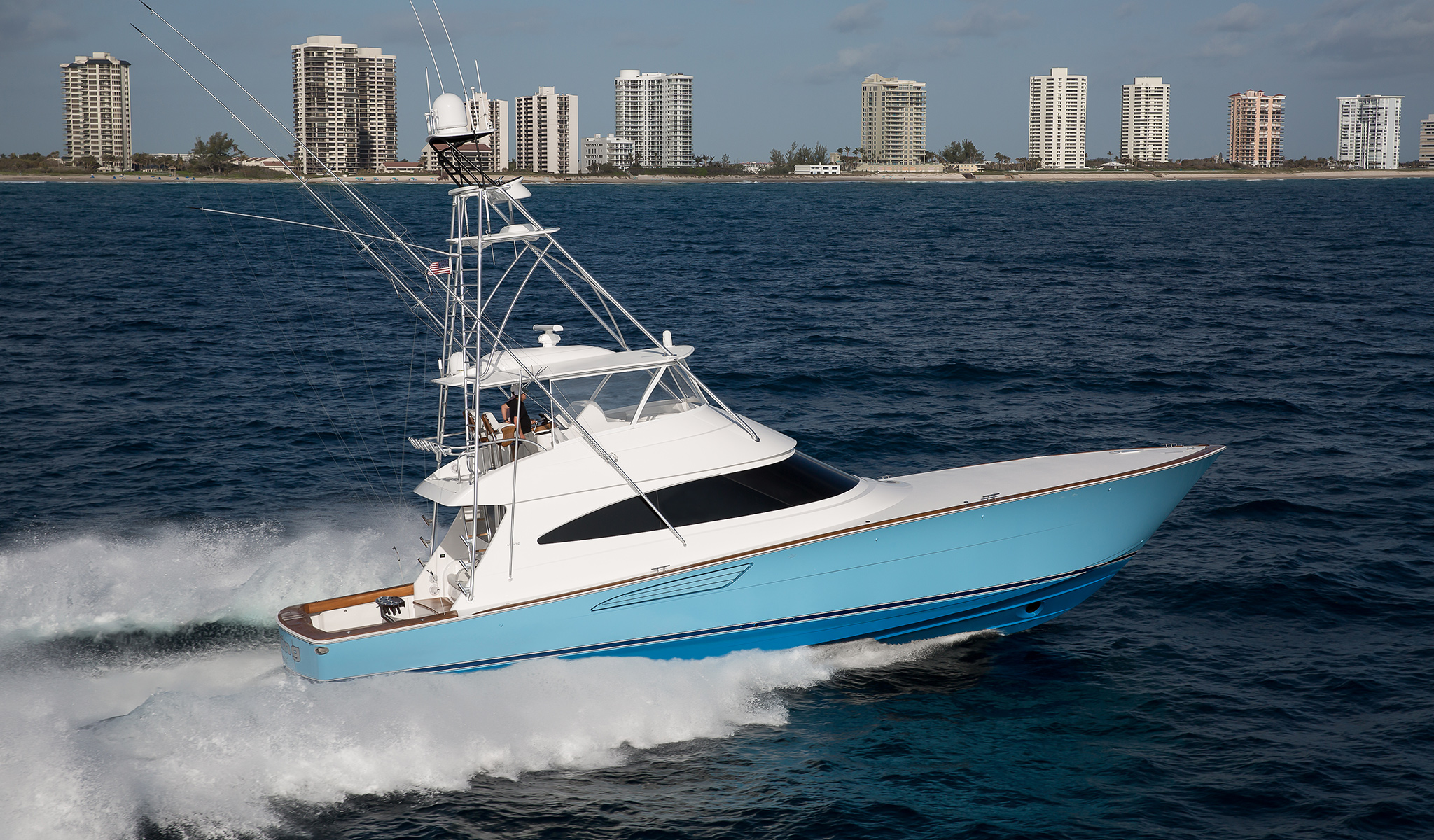 Above: A 2022 Viking 68C Convertible sport fishing yacht for sale on YachtWorld. Photo by Viking Yachts via Galati Yacht Sales in Anna Maria, FL.
This 68-foot convertible is a luxury fishing machine available with four staterooms/four heads and a bulletproof construction. She has a 35-knot cruise and carries over 2,000 gallons of fuel so you can fish fast and far. And with a Seakeeper gyrostabilizer, you'll fish all day without feeling fatigued or green at the gills.
The exterior may be all about fishing but inside you'll find elegant accommodations and push-button convenience. Enter via the electrically-actuated doors, make a meal in the walk-around island galley and then relax by the 49-inch TV. The master stateroom is nearly full-beam and has a queen bed as well as ample closets with a high-gloss walnut finish. What's not to love?
DCB Performance Boats – Two Boat Models
For fans of serious offshore racing powerboats, DCB will definitely be one to check out this year at the Miami Boat Show. Although DCB Performance Boats hasn't attended MIBS in 7 years (they were last at the show in 2014) the company is making a return to the show this year to showcase two big new models to the crowds of boating enthusiasts.
First will be an M37R, a 37-foot, tunnel-style, high-performance catamaran boat that continues the company's powerboat racing heritage, She has a 10'6″ beam and is powered by twin Mercury Racing 4.6-liter 450R outboard engines.
Next will be the builder's latest debut, the DCB M44 Widebody Catamaran. A version of the DCB M44 with an open bow is reportedly still under construction, but hull number 4 of the DCB M44 Widebody should be on display at the show.
Ocean Alexander 37L
Above: A 2022 Ocean Alexander 37 Legend for sale on YachtWorld right now. Photo by Ocean Alexander.
From the desk of Evan K. Marshall comes the new 120-foot Ocean Alexander 37L. She's powered by twin MAN 1900 hp V12 engines and carries over 5,000 gallons of fuel. This is one big fiberglass monohull with plenty of power to get around.
Social spaces include the aft cockpit with a bar, the double lounge built into the foredeck, and the flybridge that's open in the back for easy sunbathing. Of course, there's also a beach club to relax at the waterline.
Inside, you'll find the master suite on the same level as the salon, dining room and galley. It offers sweeping views of the ocean forward and to the sides. Four more cabins can be found on the accommodations deck. In case you're wondering, the "L" stands for Legend and she won't disappoint.
Come For The Boats – Stay For The Fun!
The show is offering both bus shuttles and water taxis so you can get between the various venues and check out all the boats above and more. There will also be live music concerts from Thursday – Saturday nights, so you can relax with a beverage and contemplate all that you saw during the day.
Below is the official schedule for MIBS 2022:
Wednesday, February 16th: 10 AM – 6 PM (Prime Time Preview)
Thursday, February 17th: 10 AM – 6 PM
Friday, February 18th: 10 AM – 7 PM
Saturday, February 19th: 10 AM – 7 PM
Sunday, February 20th: 10 AM – 5 PM
Official Boat Show Address:
Convention Center Dr, Miami Beach, FL 33139
Related
---