When the Miami Formula 1 Grand Prix was announced for one of the hottest cities in the nation, racing enthusiasts around the world were elated about the opportunity. It was years in the negotiations and Austin, Texas—also a hot American city—was the only other U.S. location in 2022, so South Florida business leaders jumped at the chance to partner with the prestigious sport of F1.
Above: The Luminsea Races during the Miami Formula 1 Race in 2022. Photo by Devin Ramirez via Marilyn DeMartini.
While Monaco reigns as one of the premier international F1 sites, complete with its renowned yacht-filled waterfront, Miami was not to be outdone. Since many city residents opposed the traffic and noise in their downtown, Hard Rock Stadium, home of the Dolphins NFL team in Miami Gardens became the chosen location thanks to the resourcefulness, deep pockets and creativity of the stadium owner, Stephen Ross; he was also instrumental in gaining and moving the races—but not without objections from Miami Gardens residents. The economic impact of the Speed Week on the Miami economy eventually won out over the naysayers and sponsors and race fans jumped to gain the expensive positions and tickets.
According to the Miami Herald, the track, a monumental feat, constructed on the parking lots and grounds of the football stadium, featured a 24,000 square-foot "beach club zone" at the infield of turns 6, 7 and 8, with a pool, cabanas, bars and DJs. A "Yacht Club" resembling a marina, had yachts dry-docked on a pixelated plastic canal, including a Midnight Express, Azimut, two Sunseekers and Hinckleys, the latter provided by Barton & Gray Yacht Club. (Hinkley reportedly declined being the first to try docking on synthetic water—especially at a huge price tag for the visibility, according to an article from Power & Motoryacht Magazine. However, some race patrons paid $38,000 for a four-person "Yacht Club" package, $19,000 for a two-person pass and $9,500 for a single. F1 ticket packages. At record-breaking prices, tickets sold immediately and Miami was on course for a glamorous race.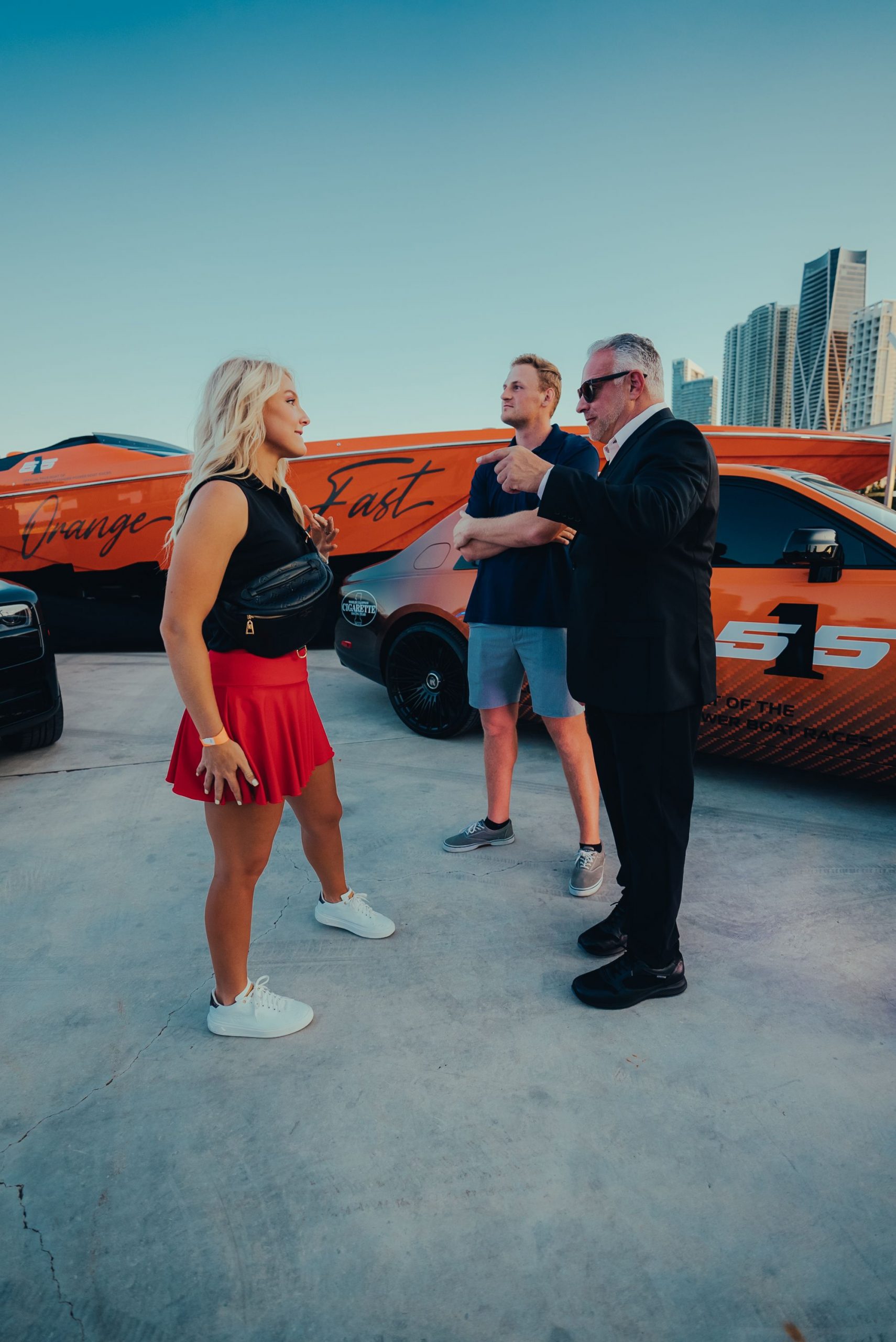 Above: John Ruiz speaking with a team in front of "Orange-U-Fast" a Cigarette 515 at the Luminsea Races during the Miami Formula 1 Race in 2022. Photo by Devin Ramirez via Marilyn DeMartini.
Miami native and Cigarette Racing Team owner, John H. Ruiz, was not about to be left out of the action. The attorney, entrepreneur and technological inventor, creatively staged his own powerboat race on Miami Beach, named for one of his newest inventions and companies, LuminSea, a technology that will light channel markers for night safety. The race was announced as a way of partnering with F1 and to bring offshore racing and visibility back to Miami where much of the history started on the notorious Thunderboat Row—the origin of prestigious boat companies like Cigarette, Donzi, Magnum, Formula and Apache.
The LuminSea Offshore Races were scheduled for Saturday, May 7 with an assortment of race teams in several classes, assembled to put on a good show for fans from the pits at One Herald Square to the racecourse off Miami's South Beach. A group of race officials was assembled and the teams who agreed to come to the race were eager to start a new tradition to complement F1's 10-year commitment to Miami. Ruiz also included sponsorship from his dealers and another of his new technology companies, LifeWallet that stores individuals' health information to their phones for easy access and emergencies. Braman Miami, which carries Bentley, Bugatti, BMW, Cadillac and other high-end brands was also on hand, bringing the type of cars that complemented the striking 51' Cigarette pace boat that was built in just six weeks to be the star of the show.
Above: The "Orange-U-Fast" Cigarette 515 on the water at the Luminsea Offshore Race during Miami Formula 1 2022. Photo by Devin Ramirez via Marilyn DeMartini.
Ruiz, a University of Miami alumnus, brought UM to the party—literally—as athletes, students and the school's marching band all were invited to the kickoff party on Friday night for great fanfare. The "Orange U Fast" boat was painted in Miami colors of bright orange with green lettering and struck quite a profile—along with other 515 Cigarettes, a 59' Tirranna and several other powerboats that added to the race fleet.
A gorgeous sunny day ushered in excited racers, preparing for the two races–smaller Factory boats in the first heat and larger Class 1 boats in the second, doing 6-7 laps of the 5-mile racecourse. A small spectator fleet was also assembled, including two of Ruiz' yachts—one 120' Mangusta for VIP viewing and another 116' Azimut for the Livestream film crew , media and race control. As with any South Florida race, a dedicated lookout for wildlife—like manatees, dolphin and sea turtles was on watch and as luck would have it, mating turtles in the course delayed the first race for an hour.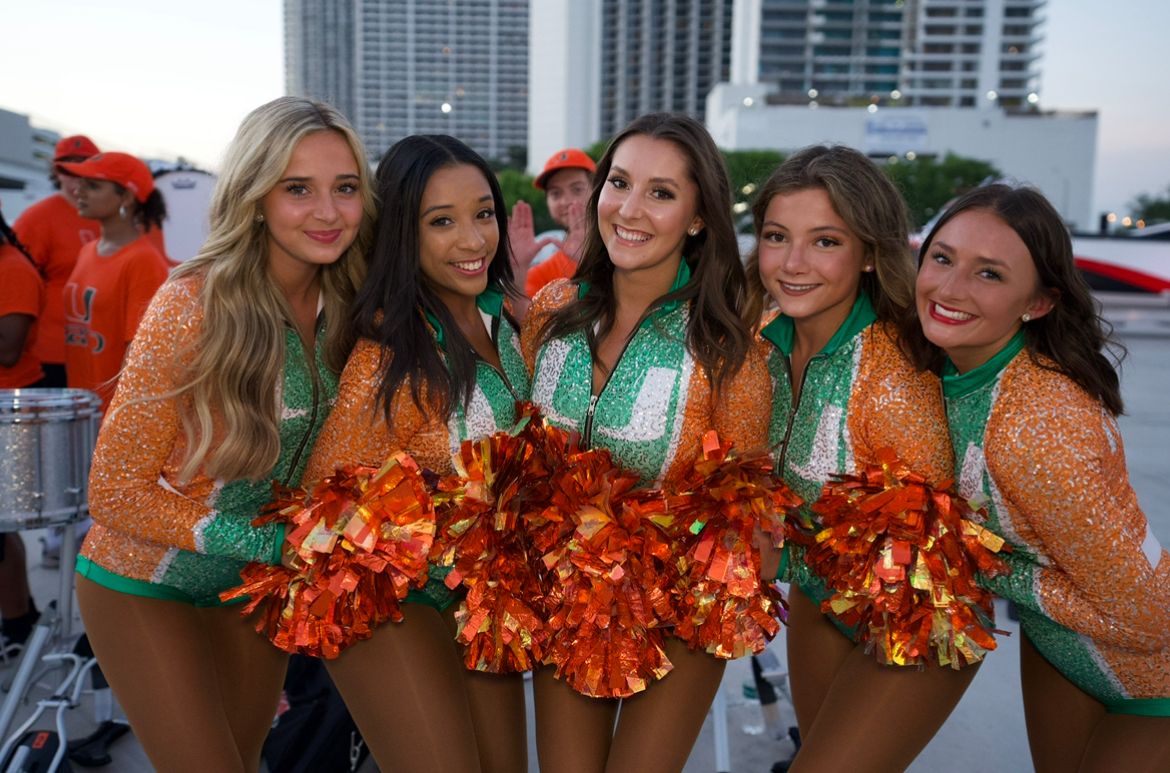 Above: Promotional models pose for a shoot at the Luminsea Offshore Race during Miami Formula 1 2022. Photo by Devin Ramirez via Marilyn DeMartini.
Over that hour, true to South Florida weather patterns, the conditions changed, with lightening in the offing, white caps on the beach and strong winds that blew the race marker buoys off the track and threatened the safety helicopters. The organizers grew concerned, and while efforts were made to re-position the buoys, the winds continued to blow. After much deliberation, the U.S. Coast Guard called the race off due to the high winds, the course instability and inability to fly the safety helicopters, which carry rescue divers and monitor the course.
Like a sucker punch, the decision buckled racers and spectators, but the disappointment did not stop the enthusiasm of the participants and organizers who knew that they had the right "formula" to partner with Formula 1—but not without the cooperation of Mother Nature. The money and time spent was surely a heartbreaker, but the stage was set for the LuminSea Offshore Races for 2023.
Ken Bolinger from Fastboys Racing who had traveled from Pennsylvania for the race was preparing to take his race boat, truck and gear to the Cigarette factory for storage until the Powerboat P1 Offshore Race, being held in Cocoa Beach May 17-21. Before the race, Bolinger excitedly called the event "phenomenal" recognizing that "This is where it all started a lot of years ago." Afterwards, he remained positive saying, "It was a long trip but at least we got to work some bugs out—the venue is beautiful!"
The bigger Class 1 boats that looked forward to putting on a high-speed show also packed up for the P1 races later in the month but according to Mike Stancomb, a powerboat champion and veteran racer from Indiana, who planned to race in both classes, "None of us regret coming to the race. It was a herculean effort to get it done in record time and was a smart tie-in with F1. Heck, if we're not racing, we're watch F1!"
Nigel Hook, a California racer who has broken numerous speed records and earned many championship titles in his Lucas Oil sponsored Class 1 catamaran agreed, "Miami is a great place to race—the history and the venue—and I haven't seen a race put together of this caliber in decades—including the magnificent party on the yacht and concert! They put their best foot forward for a first-time event and we're looking forward to racing here again. It's unfortunate that Mother Nature and turtles got in the way, but it's always good to get to test in the rough water in Miami!" Hook added.
"None of us can control Mother Nature and it was not safe to be out there if the helicopters couldn't fly and we didn't have safety divers. We're going at over 100 mph, and we have to be safe," said Stancomb, "They did everything they could do. We were treated so well with parties and a great pit set up—I'm looking forward to next year if they are going to do it again!"
The experience was certainly an expensive one for Ruiz and his team, but they remained optimistic in planning for 2023. "We are absolutely going forward!" said John Ruiz. His vision is to set the stage so fans can experience both racing and the lifestyle so they embrace and follow the sport.
"It used to be wealthy people racing each other—it was not for the fans, but we plan to bring both racing and fans together and give racing perpetual life," Ruiz stated. "As we develop, we'll get fans closer to the race so they can feel the roar of the engines. I think our team did a fabulous job—we had about 3,000 people at the Friday night event. We want people to see the monumental machines close up and bring the racers to the forefront—that ties fans into racing."
Through Cigarette Racing Team's development of new boats, personal watercraft and even Cigarette golf carts, Ruiz plans to elevate the brand and what it stands for—as well as the history and the future of racing. "We have an entity, I like to create, not duplicate," he says, "Cigarette is coming to life big time. We've expanded sales six times, bought Vector Works so we can redesign our boats and build more. F1 was a huge success and we'll be back!"
So be ready for an even bigger event next year—a new tradition is being created in the Magic City–F1 on the road course and on the ocean.
Related
---