Are you a boating or sailing fanatic? Have you ever considered turning your boat into a custom logo and printing on a shirt, mug or even custom boat cushions? Custom Captain is a one-stop shop for customized boating products for all boat owners and their passengers including kids, men and women. Emma Coady spoke with Custom Captain founder Connor Gross about why The Custom Captain is taking the personalized marine apparel and custom boating gear e-commerce world by storm.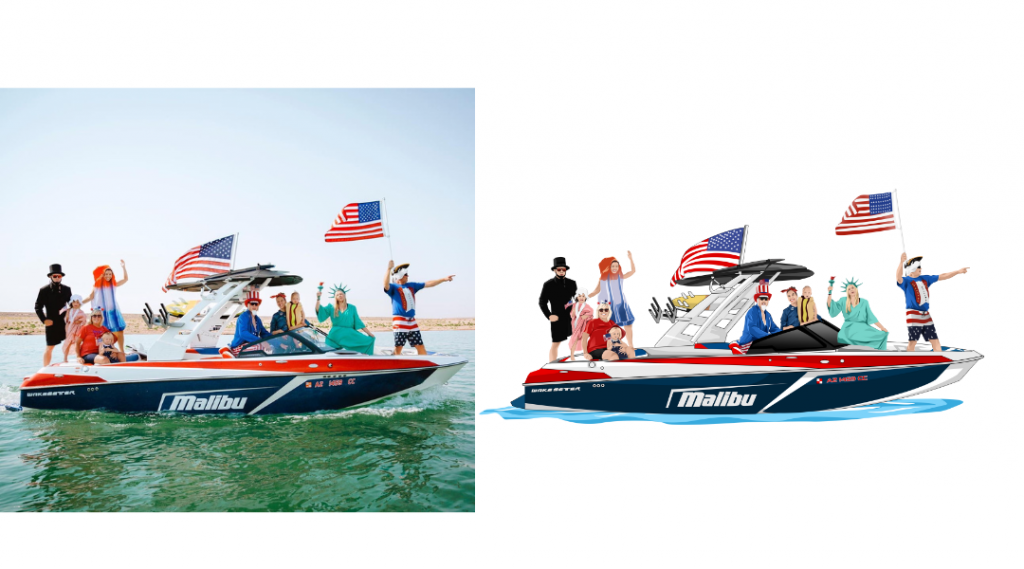 Above: Boat logos made by The Custom Captain. Do you have a patriotic side? Wave the American flag. Image credit: The Custom Captain.
Created By Boaters, For Boaters
Founders Connor and Nick dreamed up The Custom Captain when Connor's dad became a proud new boat owner. His dad was super hyped and wanted to purchase a full suite of branded merchandise with his boat on it for the whole family, including hats, jerseys and shirts. Rather than going through a traditional printing company, he connected with a friend who is a graphic designer who made him a bespoke boat logo and word art. Connor and his dad recognized there was a gap in the e-commerce market for creating custom digital boat artwork merchandise at low price points. Connor partnered up with his friend Nick to start up an online store of their own, utilizing their experience in e-commerce and boating. The past year has been enormously successful thanks to their low-cost model production line and responsive customer service.
In a nutshell, what is The Custom Captain?
"The Custom Captain is an online platform for customized boating products. Yacht owners and boat owners come to us to get a bespoke graphic of their boat alongside personalized logos. We print them on a wide range of products including towels, apparel, water bottles, stickers and tons of other products."
Why are personalized boating products a good idea?
"We sailors are prone to being a tad obsessive about our yachts. Boat fanatics love nothing more than sharing their passion for boating with others. Custom graphic tees make a great talking point, helping boaters to recognize and connect with fellow boaters when they are out and about. Thanks to The Custom Captain, proud boat owners can support their boat brand. Custom boat gear is fun, playful, and offers a great way to express your personality and interests, even when you're not on the water."
How does The Custom Captain work?
"To get started, all you need to do is upload a photo of your boat, add the name of the vessel and port, and an artist will design the artwork. The Custom Captain will send a copy through to users within a 24-hour time frame. Orders are typically shipped within three to five days. Users' ability to make unlimited revisions, coupled with no minimum order quantity requirements and low price points, has put The Custom Captain on the e-commerce map."
Above: A personalised hoodie designed by The Custom Captain. Get your beloved boat (or yacht) printed onto a sun shirt, fishing neck gaiters, dock mats, tumblers, koozies, flags, hats, hoodies and more. Image credit: The Custom Captain.
What sets The Custom Captain's artwork apart?
"It all lies in the finer details. The user has the ability to add personal touches to their graphics. For example, if you want your logo design to include your dog on the boat, or an American flag, our designers on site can incorporate them into the design. Every design is created entirely bespoke for customers thanks to our roster of talented graphic artists."
Above: Bespoke artwork by The Custom Captain. If you're a fishing nut you can get a fully rigged boat designed, with rods, rodholders, a fishbox and fish on the aft. Use your design as an opportunity to showcase your lifestyle and personality. Image credit: The Custom Captain.
Which boating products are your favorite and why?
"Dock mats are incredibly popular because they provide extra presence while your vessel is dockside. They reinforce your brand identity while making it easier for your guests to locate you, especially if your neighbors are not using dock mats. You can't make a good first impression twice.
Our reusable boating product line is something I am really keen to push. Many disposable, single-use products end up in the water causing damage to marine life. The Custom Captain sells reusable tumblers, wine tumblers, and pint glasses to encourage boaters to use reusable products."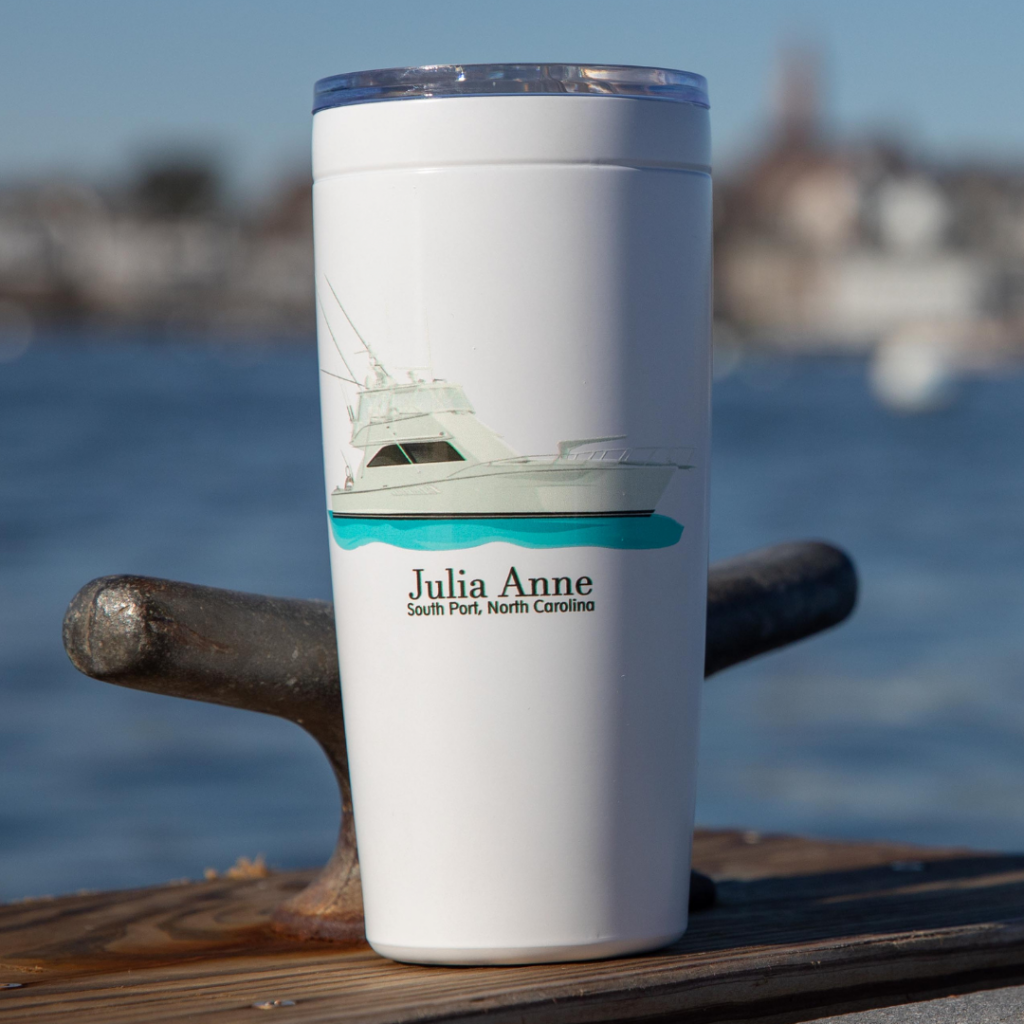 Above: The Viking tumbler. Image credit: The Custom Captain.
Is it a good idea to get the whole crew kitted out in custom boat shirts?
"Absolutely. Branded merchandise is a fun way of creating a sense of camaraderie. Branded gear helps to build a sense of unity among the crew. Branding products, such as bucket stickers, glasses, and mugs, adds a touch of finesse when guests hop on board."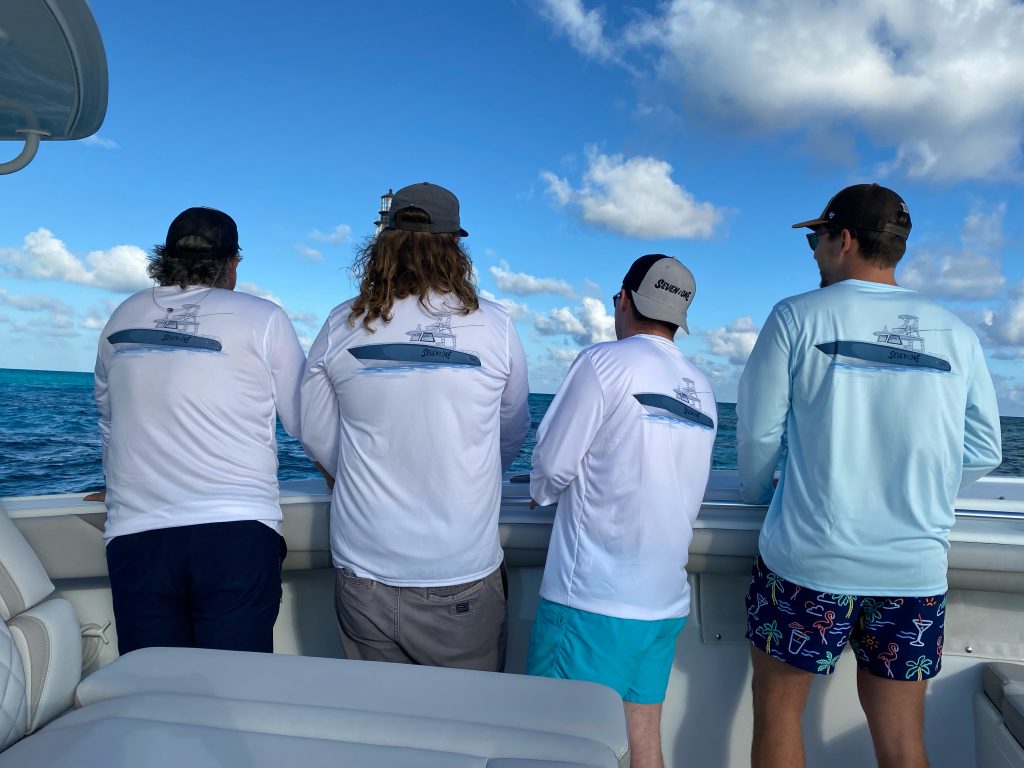 Above: A four man crew decked out in The Captain Custom tees. Image credit: The Custom Captain.
Can you tell us a bit about the fabrics you use?
"Our nautical apparel is designed for life on and off the water. All tees are made using an SPF 50 fabric, a quick dry, stretchy resistant material, designed for life on the water. However, if you want to wear your tee on land, you might prefer the 100% cotton tee option. And during the winter when you can't get out on the boat, you can still support your brand by wearing the Gildan heavy-duty sweatshirts."
Boating Gifts: Do You Have A Boat-Crazy Partner?
If your partner is obsessed with their boat, and you have no idea what to get them as a gift, you could consider a personalized boating product. The chances are, your boating gift will be incredibly well received!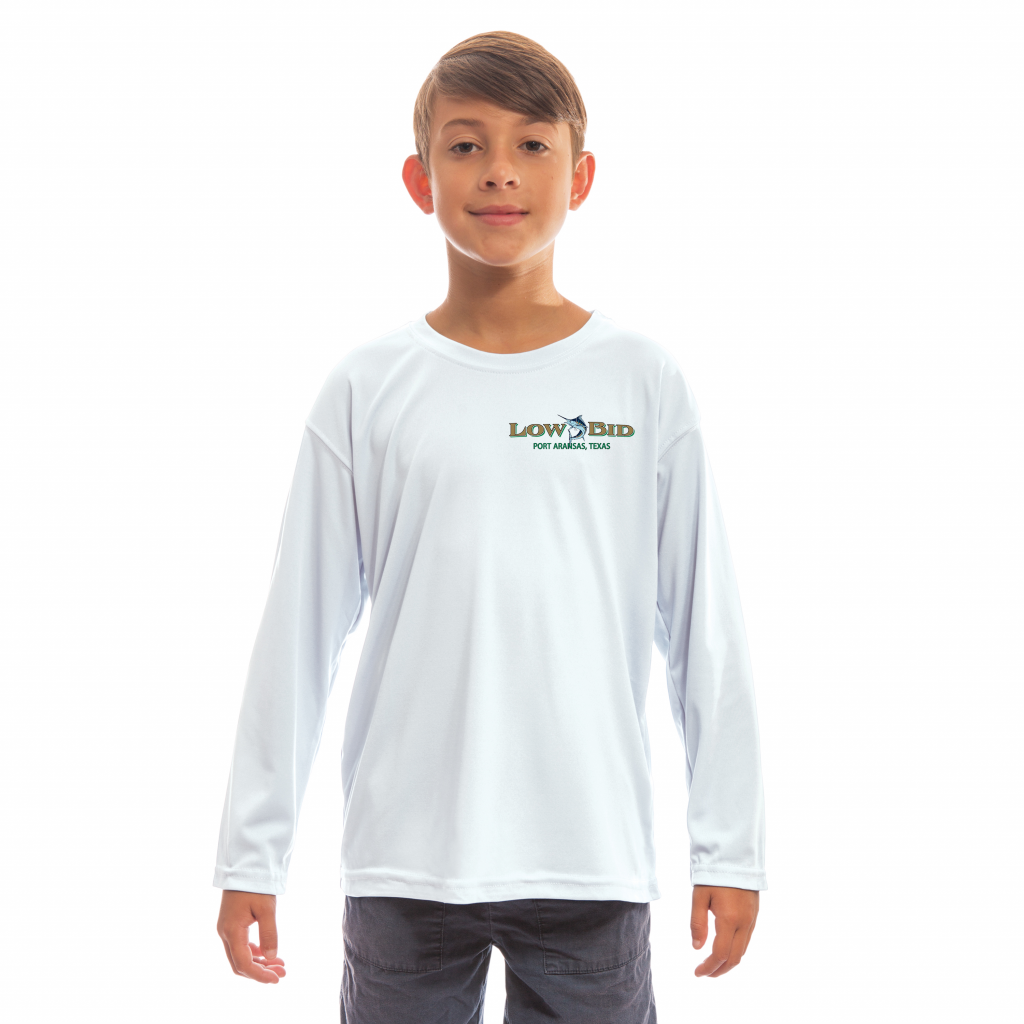 Above: The youth dry-fit boat shirt in white and is priced at $39.99. The Custom Captain has launched an entire kids collection so that nobody gets missed out! Image credit: The Custom Captain.
If you are in the market for boating gear, check out Best Waterproof Fishing Jackets for a review of the best brands out there.
Take a look at some of the most interesting and downright bizarre houseboats afloat.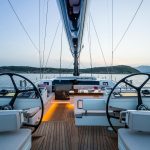 Check out these not-to-be-missed sailing films and boat movies.