Scott Martin leads a blessed life, fishing and boating for a living. As a second-generation professional angler who is currently fishing the Bassmaster Elite and Bassmaster Classic tournaments, based on his success in his first year in the Elites. He has been an impressive second in all-time money winnings and tour wins over the years–including four gold medals in international competitions.
Martin has also had a TV show since 2005, called "The Scott Martin Challenge". This multi-faceted, reality-style fishing show delivers 15 million viewers his experiences fishing on the water with other top anglers, friends and family. The show airs on cable and network channels including Discover, ESPN2, Sportsman Channel, CBS Sports Network, World Fishing Network and ATT&T Sports Networks. While Martin is often seen in his 42 Freeman catamaran, a new Skeeter is his preferred bass tournament boat.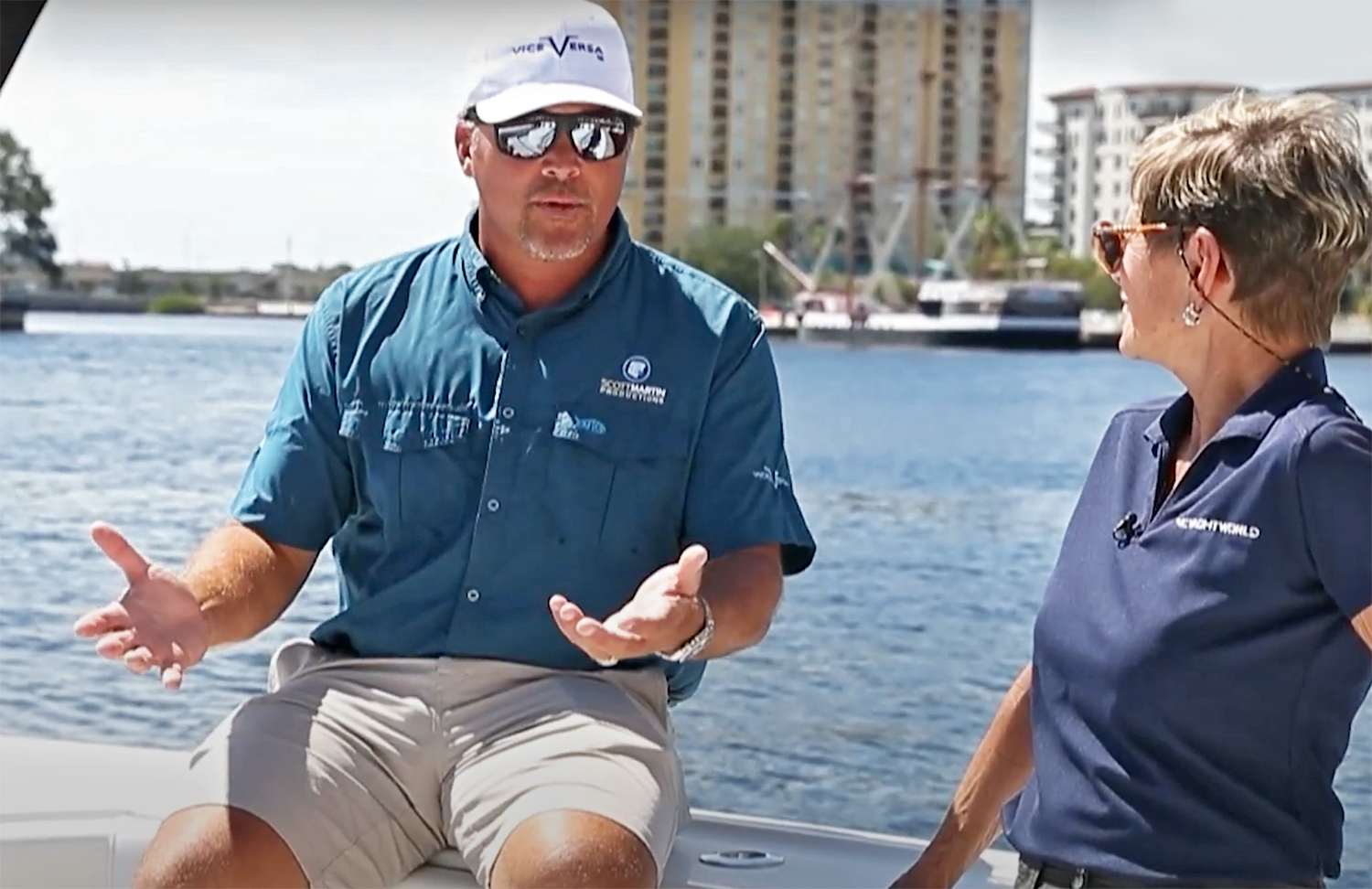 Above: Scott Martin aboard his Freeman 42 power catamaran with Marilyn DeMartini for YachtWorld. Photo: YachtWorld/DSV.
A Tournament Fishing Machine: Vice Versa
Martin is heavily sponsored and uses his 42' Freeman for some tournament, charter and family and friends fishing trips. The name "Vice Versa" indicates Martin's love for both fresh and saltwater fishing, and his charter fishing trips and fun times include island or sandbar hopping or getting out to his favorite fishing spots in record time with his new quad 300 Yamaha 4-stroke engines. Martin credits the quiet torque of the Yamahas for the excellent performance and fuel efficiency of the hull. The Freeman is a serious angler's boat of choice as it was built by Billy Freeman who started Freeman Boatworks, to build cats for fisherman that he just didn't find on the market.
Fishing Features Abound
Loaded with live wells, huge fishing and coffin boxes and a broad aft deck, the boat enables over 12 anglers to work a fish without getting in each other's way. Two rows of Llebroc seating add more comfort, providing six people shaded seats under the oversized hardtop. Garmin 24" screens provide all the engine, navigation and fish-finding information and Freeman provides lots of extra storage at the wind-protected helm for gear, including in the T-top. A FLIR system adds safety for night fishing, and the Helm Master joystick and display facilitates operation. The Freeman 42' with a 12' beam "works" as does its captains, to get to the fish and haul them in.
KICKER Marine Sponsorship / Boat Wrap
One of Martin's sponsors is KICKER Marine Audio and as Martin notes, "There is no shortage of Kicker speakers on this boat!" He lost count of the number, but the thumping sound indicates the fisherman's love for music–especially when the fishing is slow or he is out for fun.
Martin says he can island hop or beach his Freeman at the sandbar and enjoys the attention that the KICKER wrapped boat garners from fellow boaters. The Freeman lives at Bass Pro Shops in Islamorada while Martin and his family reside in Clewiston where his father, Roland and mother Mary Ann founded The Roland Martin Resort in the 1970s where Roland began his TV show, "Fishing with Roland Martin. The resort is renowned for excellent charter fishing, as well as its tiki bar. The weekend house in Islamorada keeps the family on the water just about 24/7 and Scott Freeman is a happy man. Spending some time on the water with him, we understand why.
Freeman 42 Specifications:
Length: 42′ 0″
Beam: 11′ 9″
Dry Weight: 11,250 lbs
Maximum HP: 1,600 hp
Fuel Capacity: 740 gal
Related
---