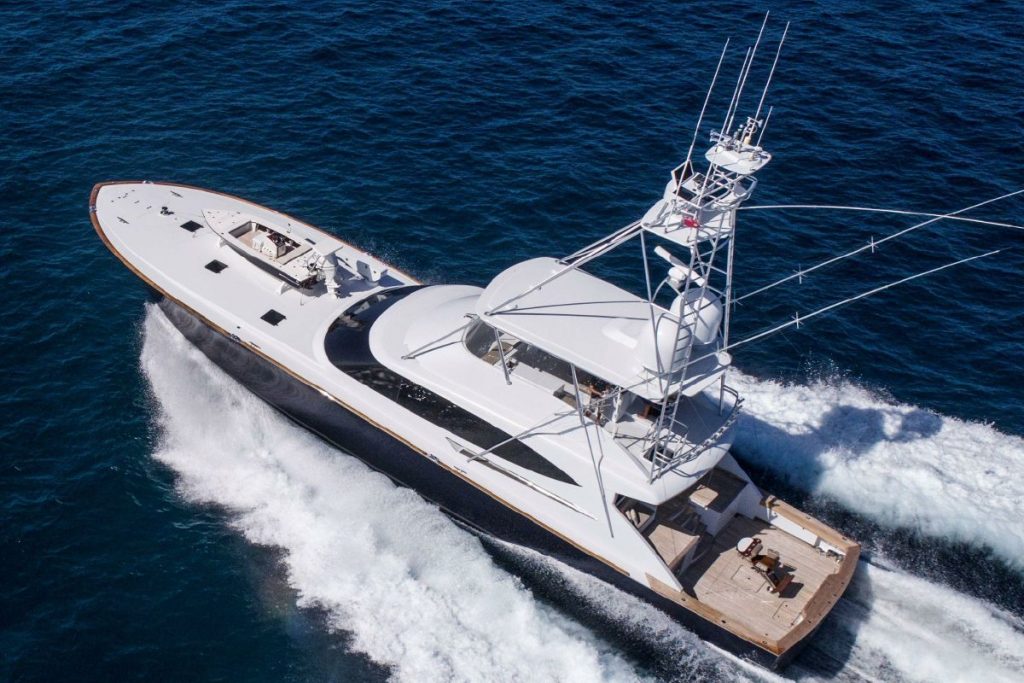 Above: A 2012 Custom Convertible Sportfish Yacht for sale. Photo by Carrswood Yachts Limited in Palm Beach, FL.
While there are not hard and fast rules as to what constitutes a sportfishing yacht and what doesn't, generally these are larger yachts between 35-90 feet that have been built and designed specifically with fishing in mind above all else. They have protected helms and overnight accommodations, even if the sleeping berths are spartan on some models. Also called sportfish yachts or sportfishermen, these boats are seaworthy and at home in the open ocean (intended mainly as saltwater fishing boats) and can handle rough sea conditions. Let's take a look at what constitutes a sportfishing yacht and the various types on the market, as well as some examples of the best sportfishing yachts in the world.
Key Features Of A Sportfishing Yacht
Types Of Sportfishing Yachts
What Is A Sportfisher?
Big Center Console Sportfishing Yachts
How Much Is A Sportfishing Yacht?
How Are Sportfishing Yachts Built?
What Types of Engines Power Sportfishing Boats?
Key Features Of A Sportfishing Yacht
Sportfishing yachts are used to catch various sportfish species. These vessels have numerous purpose-built features onboard (such as outriggers, downriggers, fighting chairs, large livewells, bait prep and tackle stations) that make them ideal for targeting big game fish including tuna, marlin, grouper, sailfish and other coastal pelagic species (like mackerel, bluefish and makos) along with a variety of oceanic pelagic species. Pelagic species of fish are species that live their entire lives in the open ocean. Sportfishing yachts generally have the capability for longer distance fishing trips and coastal cruising with overnight berths, particularly useful when fishing in the oceanic pelagic zones – i.e. the deep ocean water beyond the continental shelf (think swordfish, sharks and big tuna).
Types of Sportfishing Yachts
Sportfishing yachts include a few types of closed-bow style offshore fishing boats, that can generally fall under the following 5 categories:
Convertible Yachts
Flybridge Yachts
Express-style Sportfish Boats
Sportfishermen
Custom Carolinas
All of the above types of boats could be accurately termed "sportfishing yachts" and all of them have certain characteristics that are more useful for certain scenarios, such as coastal fishing versus offshore fishing. Some are more accommodating than others for overnight stays (such as convertibles and flybridge yachts) while others might be bare bones basic fishing machines (such as express style sportfish boats).
Some leading sportfishing yachts include names like Viking, Hatteras, Bertram, Albemarle, Merritt, Jarrett Bay, Bayliss, Weaver Boatworks and Huckins Yachts, just to name a few of the top sportfish boat builders. Newcomers to the world of sportfish yachts include names like Bonadeo, Freeman and Invincible (the two latter who are both pioneering large, seaworthy open cockpit power catamarans with small berths below, now very popular in the offshore fishing tournament world).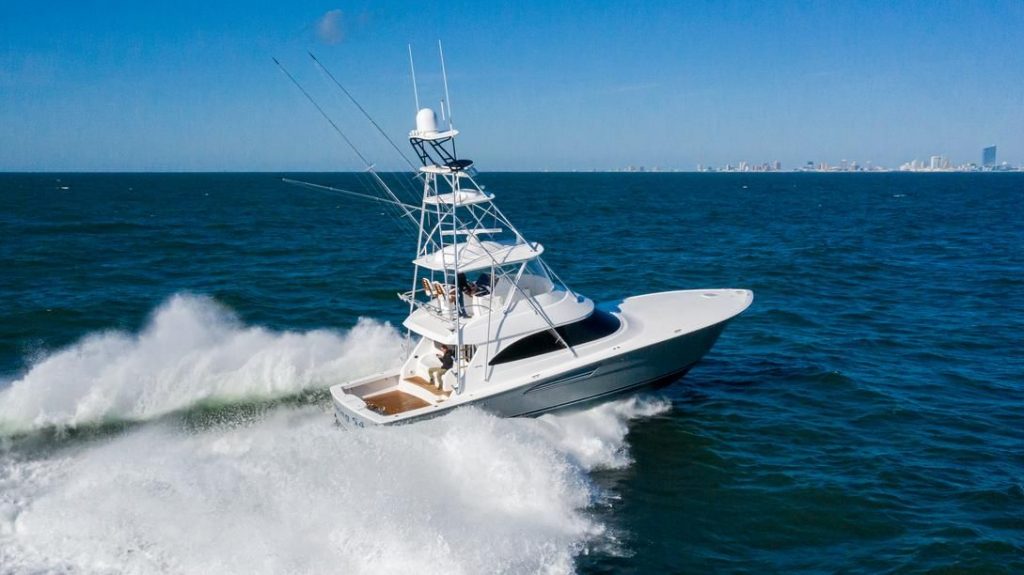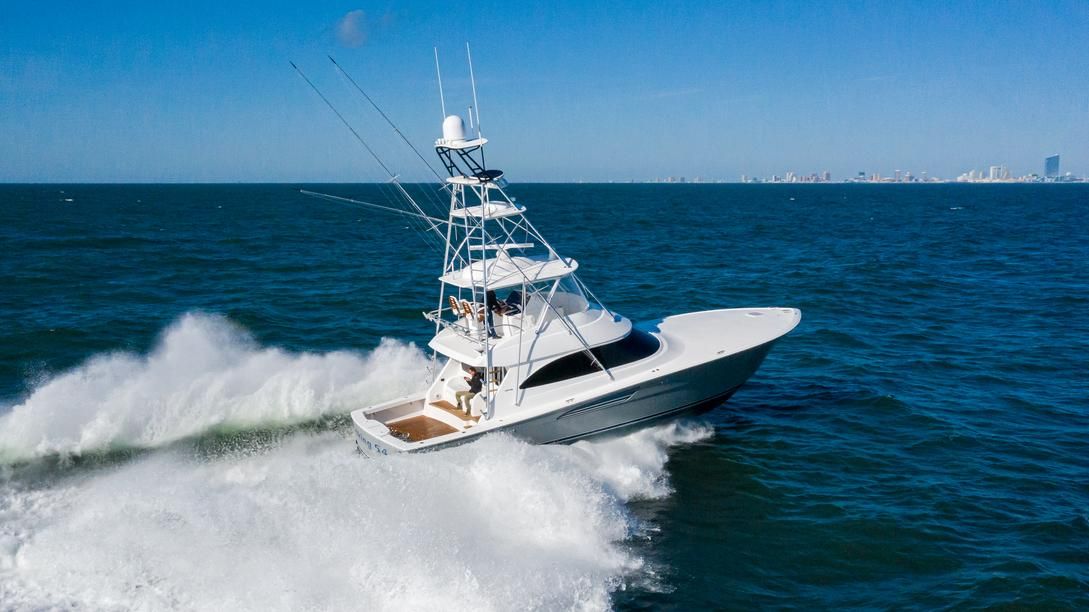 Above: A 2022 Viking 54 Convertible Sportfish Yacht for sale. Image credit: Galati Yachts.
What is A Sportfisher?
The term sportfisher – or sportfishermen – is a catch-all label that can be applied to many kinds of boats but is often used to refer to larger size sport fishing yachts used for saltwater sport fishing, including convertibles, express models and flybridge boats (mentioned earlier). It can also be used to describe boats in several subclasses, such as "express boats" (offshore fishing boats that don't have closed backs on their cabins but utilize canvas) or walkarounds (boats with side passageways that go around to the bow area) or even center console fishing boats that are labeled sportfishermen.
Big Center Console Sportfishing Yachts
There are some large, fast center console fishing boats that now classify as "sportfishing yachts", as the industry has been moving in the direction of larger outboard powered open cockpit boats with berths below deck in recent years. While they used to be considered coastal fishing boats, they've proven themselves worthy of the moniker "sportfishing yachts", thanks to a handful of builders such as Contender, Fountain, Invincible, Freeman, HCB and others.
However, it is important to consider that traditional sportfishing yachts come with more of a closed-bow style cockpit layout and hull design like the boats discussed above. There's a world of difference between a 30-foot center console used for coastal fishing tournaments, and a 60-foot convertible sportfish yacht that makes 50-100+ mile runs to offshore canyons look easy while keeping those onboard comfortable. For offshore anglers that have the budget, sportfishing boats are still an ideal upgrade from a standard center console fishing boat.
How Much Is A Sportfishing Yacht?
Sportfishing yachts for sale on YachtWorld are listed in a swath of prices from as little as $20,000 on the more modest end of the spectrum, all the way up to over $8-10M for some of the biggest, most advanced fishing boats on the market. Remember to keep in mind the cost of ownership when considering your budget for a boat and the listing price of a sportfish yacht for sale.
How Are Sportfishing Yachts Built?
Modern sportfishing yachts are generally made from molded fiberglass and/or carbon fiber and resin infusion bonded with high-quality vinylester resin (a process that creates lighter, stronger and stiffer hulls than fiberglass alone). These boats also have a durable gelcoat and paint finish that can stand up to saltwater and other harsh elements with less maintenance than other materials. Older sportfish models were traditionally wooden hulls, but those have largely been replaced in modern times. Some legacy builders still construct wooden sportfishing yachts for for the traditional yachtsmen and women that remain connoisseurs and avid appreciators of the old school way of building yachts, although this is a small, niche segment of the market. Convertible sportfish models are built with larger interiors for more comfort, incorporating household appliances and creature comforts, while express models have more open space that makes them easier to get around when fishing.
What Types of Engines Power Sportfishing Boats?
A proper sportfishing boat is designed for performance and speed. Although you'll want to take things down a notch when you find your spot, getting there is half the fun. These boats typically have high-performance inboard engines, but there has been a trend in recent years towards big high performance outboard motors as they are easier to access and maintain.
Related
---