The GMT Superyacht Taking Pole Position
Lazzarini Design Studio has unveiled their Ferrari-inspired design, the Gran Turismo Mediterranea concept (GMT) . Thanks to its uber light carbon fiber superstructure, coupled with the powerful jets and triple Man v12 engines the GMT can top speeds of up to 70 knots (80 mph!). It's intended to be fitted with foils that lift the hull out from the water's surface, making it more aerodynamic, increasing its speed efficiency in the water. The yacht's alpha-red exterior represents the lifeblood of Ferrari. Other key features that are a nod to Ferrari is the racer-style cockpit featuring two supercar pilot seats at the helm, a racer steering wheel, and separate start and stop buttons. Also, the elliptical-shaped bow has bumpers and features Ferrari's iconic prancing stallion logo.
Racer style driving seats and wheel in the cockpit. Image credit: Lazzarini Design Studio
In true Ferrari style, the design is resolutely focused on the future, adopting a hybrid propulsion system consisting of three-MAN v-12 engines, an Arneson transmission and a central Hamilton jet drive.
The gullwing doors provide seascape views from the cockpit and create a touch of supercar drama. Although gullwing doors are synonymous with supercars, they are not typical of Ferrari, whose car designs typically feature scissor or butterfly doors.
The retractable transom on the aft deck allows owners to launch their tender, or you can use it as a beach club by folding it up. image credit: Lazzarini Design Studios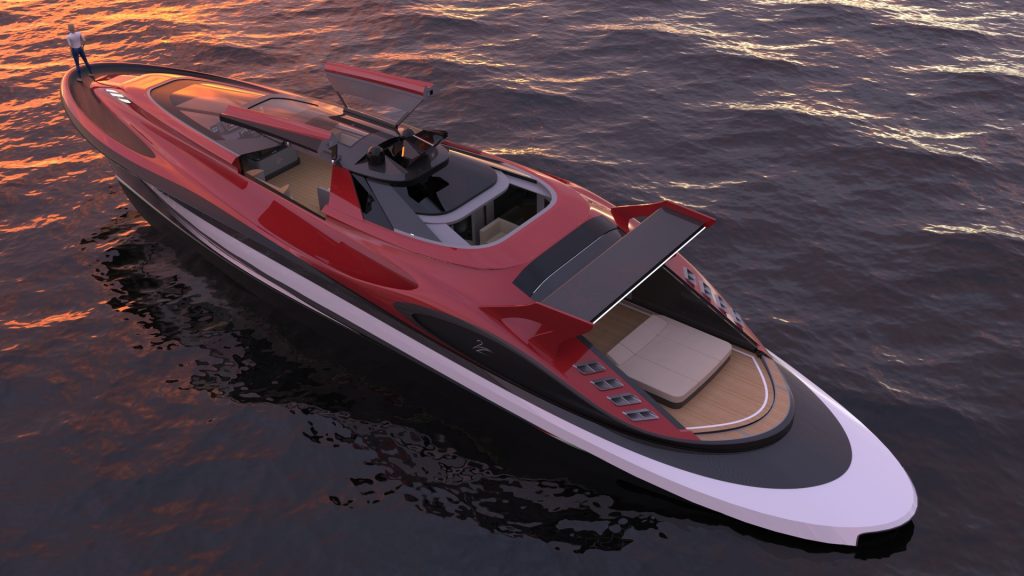 This 88 feet GMT showstopper would certainly turn heads arriving at Port Hercule for the F1 Grand Prix. The Gran Turismo Mediterranea concept (GMT) has an elliptical shaped bow. Image credit: Lazzarini Design Studio
If you want to get behind the helm of the Ferrari of the sea, you could turn this fanciful design concept into a reality by contacting Lazzarini Design Studio, recognized for its imaginative and unique yacht concepts. Take a look at Avanguardia, an innovative swan-inspired design.
Automobile Companies In New Waters
Although Ferrari have not yet made a superyacht, there are lots of supercar names clamoring to make their mark in the superyacht and superboat industry including Lamborghini, Porsche, Bugatti, and Jaguar.
However, Ferrari do have a short and exclusive history in classic boats. During the early 1990's, the iconic Italian duo Riva and Ferrari partnered up to build a limited-edition 40 speed Riva boat. The 1990 Riva Ferrari 32 was sold at a Sotheby's auction in Monaco.
Related
---