With both summer and Miami's world famous Swim Week in full swing, it's hard not to think about shopping for a fresh new swimsuit this time of year. Finding the right swimwear for a yacht trip can sometimes be a daunting task. Not only are there an overload of options out there, but it's difficult to find brands that possess both an elegant and flattering fit without busting your budget or seeming "overdone." Here are a few great options to kick off your search for a new swim wardrobe just in time for your summer on the water.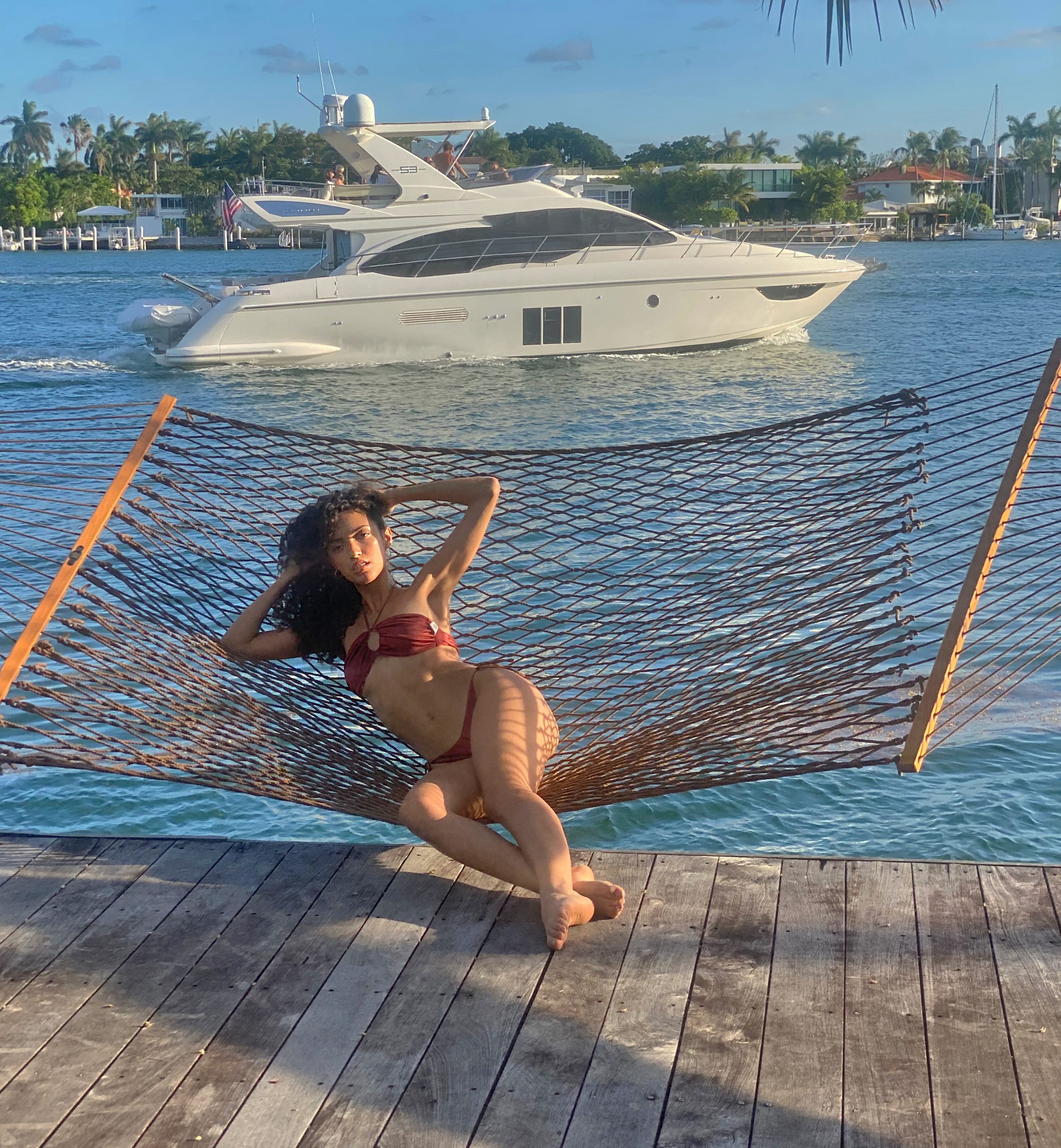 Above: Model Darian Castillo wearing a bikini swimsuit by Nalu for Miami Swim Week 2022 with an Azimut S3 yacht in the background. Photo via Nalu/Laila Elise.
Ring Halter by Summersalt
The Ring Halter One Piece in Floral Splash Lagoon by Summersalt This gorgeous and terrifically summer-patterned suit also comes in maternity and kids sizes, perfect for family vacations. From the plunging neckline to the chic ring hardware and cheeky coverage, this one-piece is a flirty and flattering pick. Summersalt's signature compression and adjustable tie strap ensure a confident fit whether you're lounging, swimming, or splashing with the kids.
Ava One Piece in Silver Shine & Black by Nalu
This locally made, sustainably and ethically sourced brand is making waves in the swim community. The Ava One Piece Swimsuit hugs your curves in all the right places, while the beautiful geometric pattern provides great camouflage where you might want it. This elegant suit cinches the midsection while elongating the legs with a high-bottom cut.
Sadie Bikini Top and Palonia Bikini Bottom in White by L*Space
Above: Model Laila Elise In L Space Bikini Yacht Fashions. Photo via Laila Elise/L&Space.
California-based designer Monica Wise delivers a collection of stylish swimwear that brings a state of opulence that pairs perfectly with the yacht of your choice. Pieces are fashion forward, offering modern designs in luxurious materials that are sophisticated yet sporty and easy to wear. The Sadie Bikini Top paired with the Palonia Bikini Bottom in white is a great choice.
Palm Tree Classic Blackout Trunks by Solid and Striped
The Palm Tree Trunks by Solid are essential swimwear perfect for a day spent on the water – the classic black provides you with versatility when pairing with the shirt most appropriate for the occasion, and the palm tree logo brings a bit of playfulness to the look. Keep your fit super on-trend by pairing these classic trunks with the matching cabana shirt for a polished monochrome vibe.
Scalloped Recycled Seersucker String Bikini in Black by Marysia
The scalloped edges of Marysia's string bikini top are all cut by hand – they frame your curves well and photograph even better. Designed in a classic triangle silhouette, it's made from recycled seersucker developed using Q-NOVA® fibers. Keeping a for both boat and beach.
Yasmin Belted Wrap-Effect Seersucker Suit by Lisa Marie Fernandez
This effortlessly stylish nautical looking belted seersucker suit is one of Lisa Marie Fernandez's best selling styles, and it's easy to see why. The unique fabric and wrap-effect front are incredibly flattering on just about any figure. Made from textural sky-blue seersucker, this one-piece offers medium coverage at the back and has a rope belt to give you that coveted snatched waist.
Water-Reactive Moorea Octopus-Band Swim Trunks in Lazulii Blue by Vilebrequin
Go quickly from the elegantly dressed boat host or guest, to life of the party with these fun water-reactive trunks. While dry, these chic bright blue shorts can be paired with any number of shirts that fit the nautical scene of the boat, with a tonal octopus pattern appearing on them only when they get wet. After your swim, they'll dry with lightning fast speed thanks to a specialized treatment applied to the trunks.
The summer of 2022 is bound to be an exceptional season for swimwear, as pretty much all styles are "in style" once again. In terms of yacht-appropriate looks, finding something tasteful, fashionable, comfortable and affordable can be quite a challenge if you don't have a good starting point. Hopefully the ideas above will help get you started with a focus on fit and fitting into the gorgeous surroundings a boat tends to provide.
Related
---